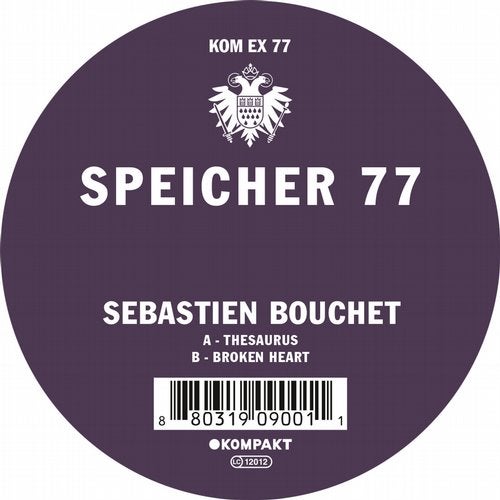 Releaseinfo: Starting out in 2001 to tie up some loose
ends from our regulars, SPEICHER has since become a guarantee for vanguard
dance sounds from all over the planet, allowing KOMPAKT to invite and
support electronic artists that comfortably inhabit both the delicate and
the more deliberate ends of the electronic music spectrum. For SPEICHER 77,
French producer extraordinaire SEBASTIEN BOUCHET returns to the fold with
THESAURUS and BROKEN HEART, two new tracks that readily underscore his
reputation as master of Rorschach techno. Following 2010's exceptional
FALLEN ANGEL (KOMPAKT 218), SEBASTIEN BOUCHET's sound cosm shows no signs of
compliancy - it's still the same undercurrent of deranged minimalism running
alongside a perfectly executed club framework and counterbalancing the
occasional epic outburst. A first perfunctory needle drop on opener
THESAURUS won't necessarily reveal its emotional intricacy, however, as a
decidedly deviant lead synth drills its way into the listener's bowels and
levels any dance floor subjected to its hallucinatory methodology. This
music knows no mercy: whoever blinks first, loses. On the flipside, the
dizzying intensity of THESAURUS is replaced by the sweet melancholy of
BROKEN HEART, a powerful techno ballad that doesn't need vocals to tell its
tale of struggle and redemption. A deceptively simple, yet towering melody
takes centre stage here, cutting through the smoke and mirrors of your
average night out like a knife through butter. Together, these tracks yield
a perfect flip-flop image for both veteran and novice crowds, delving deeply
into the most leftfield of frequencies while creating emotive momentum for
those in need of solace and community spirit.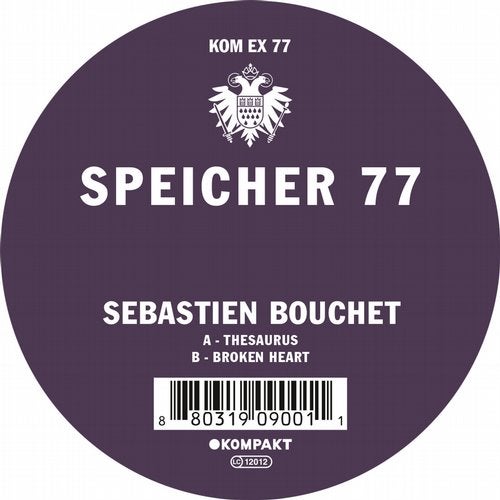 Release
Speicher 77