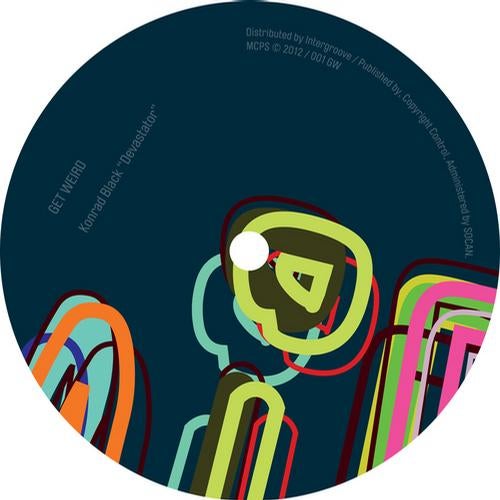 Release Date

2012-07-11

Label

Get Weird

Catalog

GW001
Ready to Get Weird this summer? Matthew Dekay and Lee Burridge certainly are with the launch of their second imprint in 6 months and following the success of their first label All Day I Dream.

While ADID represents their love of all things emotional and melodic and embraces their signature sound, perfect for their outdoor parties of the same name. Get Weird will see releases geared more towards the music they play after dark. A platform to showcase more dubby, techy, slinky and sultry rhythms, perfect for hypnotising dancefloors when the sun goes down.

Canadian producer Konrad Black unleashing ""Devastator"", while on the flip we have the label heads continue their sparkling run of studio form with the wonderfully rotund and trippy A side, ""Tubby.""




Layo ? ?Always a big fan of Konrad Black and this is a really nice first release for Get Weird!?



Ripperton ? ?Such a groover Todd!!! Devastator is HEAVY!!?



Heidi ? ?Finally?. After 1 million years Devastator comes out!?



Laura Jones ? ?I totally missed this, thanx for the heads up! Nice to see some original stuff from Todd again! Devastator?s the one!?



Lee Foss ? ?Good to see Todd back in the saddle!! I?m really feeling this!?



Will Saul ? ?Todd on fine form? both are brilliant and sound fresh as hell!!?



Satoshi Tomiie ? ?Feeling Devastator, certainly devastating! Tubby is a cool techy tune to play out for sure J?



Paul Hamill ? (Across The Line - BBC Radio Ulster) ? ?Oooh Devastator is lovely! Going in this weeks show!?



Lele Sacchi ? (Rai 2 INTHEMIX Italy) ? ?Both versions are good but will feature Devastator on radio show, it's a serious killer.?



Sergio B ? (Deejay.es) ? ?Devastator is amazing! Great Track! Smooth, mystery and sensuality!?



Ben A ? (DJ Magazine UK) ? ?Yep! Review of this in August issue!!?



Francois K ? ?Lee Burridge ""Tubby"" Top-drawer tech-house. Will definitely be dropping this as well.?


Deetron - ""Really like Devastator a lot, definitely the best Konrad Black track in a while!""



Lee Curtiss - ""Konrad?s Devastator is AMAZING!!!""



Kiki - ""Damn, both tracks are excellent!! Can?t wait to play out! Definitely on my next charts and radio show!""



Danny Howells - ""Killer .. love both tracks but Devastator pips it for me. Cheers!""



Ivan Smagghe - ""Devastator indeed!!!! Great work Konrad!""



Tom Findlay - (Groove Armada) - ""Its not THAT weird but it's VERY good!! 5 outta 5 release!!



Reboot - ""Tubby is wicked track!! Respect to Matthew and Lee. Playing this!?



Stephan Bodzin ? ?Devastor is just outstanding stuff, everyone will have to play it out. Massive!!!!?



Luke Solomon ? ?I totally missed this? Both tracks are wonderful!!?



Terry Francis ? ?I?m into both of these. Really good release again from these guys!?



Stacey Pullen ? ?Both tracks fit perfectly into my sets!! Big support!?



Joris Voorn ? ?Tubby's great! Been playing it for a while now, fantastic track!?



Clement Meyer ? (Get The Curse) ? ?Exciting weirdness by Konrad Black , his basslines are killing it, ALWAYS.?



Karlos Sense ? (Ibiza Sonica Radio) ? ?Fucking Amazing Tracks. Congratulatiooooons!!!! Full support in my sets.. and shows. Thanks a lot.?



Clement ? (Trax Magazine France) ? ?Once again a bomb from Konrad Black, great release, love Devastator.?



Thilo ? (Groove Magazine Germany) ? ?Review in next issue.?

Hrdvsion - ""Nice tracks!! Konrad Black is the badass! Thanks!""



Basti - (Tiefschwarz) - ""Yeah...great package!! Thanx for these. Both tracks are really cool for me.?



Kenny Larkin - ""I'm gonna try the Tubby track on the floor and see how she works!""



James Zabiela - ""Fantastic!! Both tracks are great... Love the artwork too! J x""



Josh Wink - ""Good release guys. Like Lee & Matthew's track the best. Lee's been on fire!""



Agoria - ""Konrad's Devastator is soooo GREAT!! Playing!""



Sascha Dive - ""Yeah I?m feeling Devastator here? great work Konrad!?



Craig Morrison (Silicone Soul) - ""Really feeling these, well cool. Devastator stands out but both are strong.""



Dyed Soundorom - ""Tubby is my choice from the release. More great music from Matthew & Lee. Support!""



Behrouz - ""Like both Devastator & Tubby, perfect tracks for the after hours. Full support!!""



Jennifer Cardini - ""This a very cool debut release? I like both tracks! Will be playing!""



Anja Schneider - ""Tubby has a really cool vibe. Gonna be playing this J?



Nuno dos Santos - (Trouw) - ""Konrad's track is pretty awesome! Hypnotic and played at the right time for sure a devastator! Also really enjoying the quirky Tubby groove!""



Ingo Boss - (Cocoon) - ""Nice spacey groover from Konrad Black. Also downloaded and burned for Sven Väth, too.""



Chateau Flight - ""Tubby is really nice trippy and funky! Looking forward to trying it out.""



Andy Baxter - (Pacha & Cafe Mambo Ibiza) - ""Very cool, and, I am all over it, Both tracks ACE!!""



Karotte - ""Both tracks are cool for me. Will play Tubby. Perfect for the morning hours.""



Seth Troxler - ""Devastator is a BOMB!!!!""



Justin Martin - ""Yes! Love both tracks on this! I?m ready to get weird.. J?



Greg - (Catz n Dogz) - ""This is such a GREAT EP!! Excellent start! Gonna play both of them?



Ewan Pearson - ""Both eminently playable - I think Tubby wins but it's very close.""



Sebo K - ""Very nice release and a strong start for the label! Devastator maybe my fav, but both will get played.?



Nick Curly ? ?Great release again from Matthew & Lee?. Congrats for that!! Playing Tubby!?



Damian Lazarus ? ?KILLER business from Todd? again! Xx?



Diesel - (X-Press 2/MoS Radio) - ""Really excellent package! Playing both!!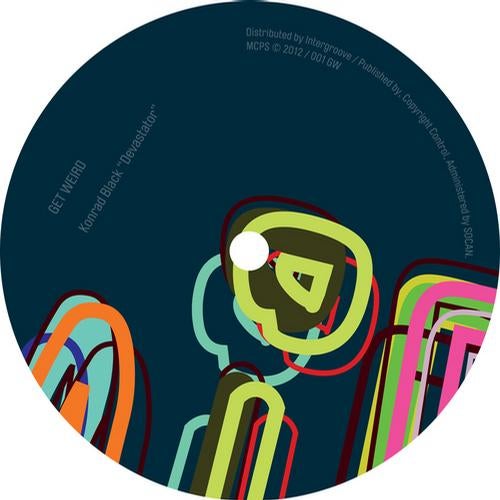 Release
Get Weird 001
Release Date

2012-07-11

Label

Get Weird

Catalog

GW001