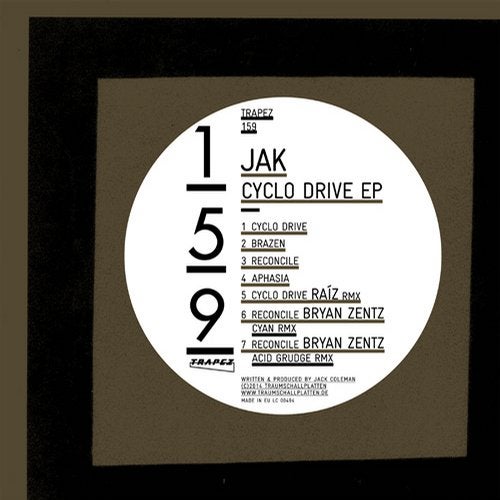 Release Date

2014-10-13

Label

Trapez

Catalog

TRAPEZ159
US artist Jack Coleman aka JAK based in Portland has been playing and producing techno music for a while now. Jack's original tracks and remixes have been successful with the DJ community. His tracks were remixed by the likes of Mark Broom, Audio Injection, Adam Jay and Angel Alanis. And he has done remixes for the Detroit Grand Pubahs and Space Djz.JAK is a true DJ and his tracks are made to be played out. He's headlined events in Tokyo, Osaka, Santiago de Chile, Seattle, San Francisco, Las Vegas and LA, and his DJ skills have recently been highlighted on popular techno podcast series including Droid Behaviors D-Node podcast, Detroit-based podcasts from Blank Code and Dystopian Rhythm and the Torque podcast from Japan.

Despite the fact that JAK comes form Portland you can hear tons of Detroit roots in his music. Juggling and funky sequences and an all present deepness attest for a lot of knowledge in the genre. His opening track "Cyclo Drive" works the machines in that manner, still keeping the rough and dirty edge which stands for an authentic techno feeling.

"Brazen" revives the distorted kick drum and adds manic sequences in the speed of light, which all adds up to a piece of "soulful techno experience". Imagine gallons and smoke fluid pumped in a basement with strobe as the only source of light. Nothing can beat this!

"Reconcile" starts moody and quickly plunges in to a 303 acid theme, all classic all smooth maybe more of a house tune than a techno one.

"Aphasia" unites Detroit house and Detroit techno in a joyous and uncomplicated way. It is a true vintage track, for all who know the origins can enjoy the influences to be laid down here in a plain and authentic way by JAK.

The first remix comes by Raíz. The Los Angeles based brothers, Vangelis and Vidal Vargas have performed worldwide. Their connection with Drumcell enabled them to develop their label, production group and music collective Droid Behavior. Raíz have released music on labels including Electric Deluxe, Historia Y Violencia and their home bases Droid and VRV.
Raíz remix of "Cyclo Drive" has the industrial strength of Harvey MacKey and the grittiness of A. Trebor and therefore fits perfectly on this Trapez release. Enjoy the heavy spiritual language of Raíz.

Bryan Zentz is a name everyone knows who has been into techno since the early days. We are happy to have him contribute two remixes.The first one being a soulful 303 remix of "Reconcile" almost a bit 808 State like.The second one being an acid grundge remix of "Reconcile", with a dark nice old school flavor.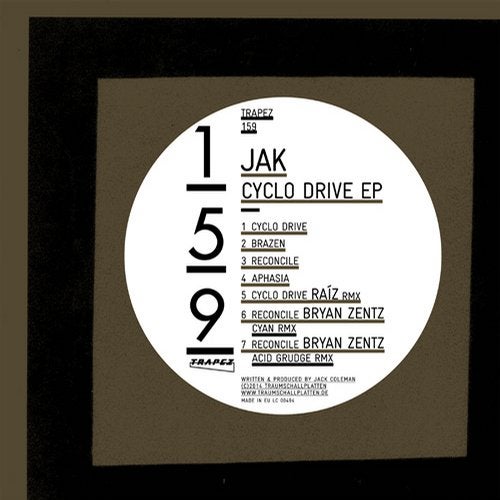 Release
Cyclo Drive EP
Release Date

2014-10-13

Label

Trapez

Catalog

TRAPEZ159