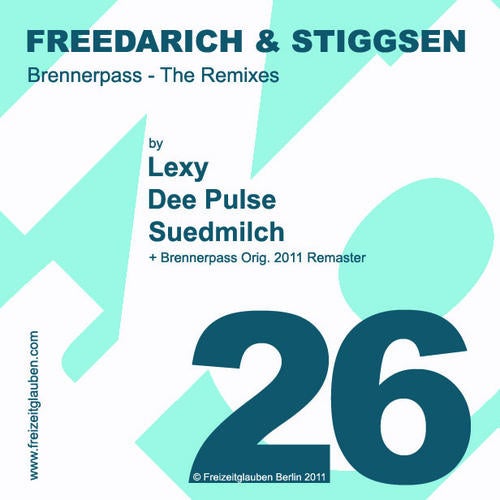 It was in 2006 when the Berlin the Duo Freedarich & Stiggsen released 'Brennerpass' on their debut Jibbie EP ( Freizeitglauben015), and everyone agreed : great track, gloomy, emotional, with Detroit-style.
Over the the last few years many things have happened. At Freedarich & Stiggsen, Freizeitglauben and in Techno as well. So why not unite the old hit with todays knowledge?
It is almost a kind of experiment that these two artists are now publishing a Vinyl Remix of that piece, with which everything began for them. What came out is an astonishing, spacious and round release which manages to cover all needs and gives a musical review.
Suedmilch gives the Brennerpass-Version another Dub injection. What results is a slow downed, dragging, laid- back style in a cushion atmosphere, which evokes and artistic touch.
Totally opposite: Dee Pulse, whose version actually seems to be made for the Nightclubs but fits into the big festival speakers at the same time.
Also on board is Lexy, who s contribution reflects the 2011 Partysound. But even though Lexy stays pretty close to the original, not losing its seriousness, but without abstaining from having fun.
Well, you see, in the past things were not better, just different.

1st Feedbacks:
-Signal Deluxe (Blaq/Eintakt) - Nice !
-The Bastards (Tonkind) - support !
-SiD (Upon You, Varied) - full support !
-Andre Gardeja (Freizeitglauben) - like The Suedmilch Mix
-Dirty Doering (Bar25) .- full support !
-Basteroid (Areal) - like it !
-Metope (Areal) - Top
-Pilocka Krach (Eminor,Eintakt,Bar25) - i like !
-Click Click - (Kassette Rec.) - like !
Fraenzen Texas (Upon You-The Cheapers) - i will play all, good work
-Schleppgeist (Beatpropaganda): wahnsinns track! ich liebe ihn!
-Jürgen Kirsch (Glückskind) - der südmilch-remix ist super!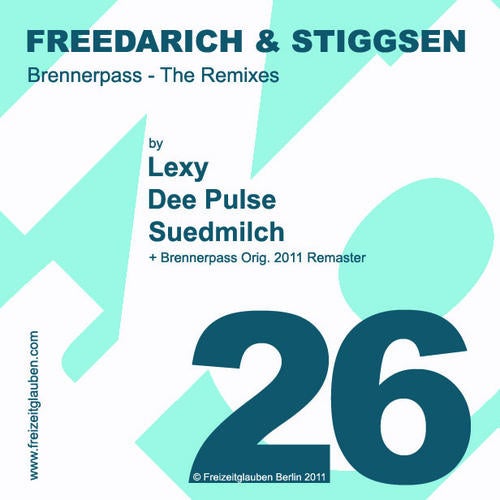 Release
Brennerpass (The Remixes)