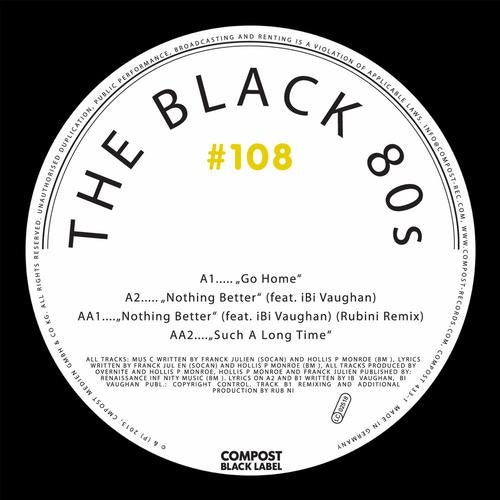 Release Date

2013-11-22

Label

Compost

Catalog

CPT4331
DJ-quotes:
Fred Everything: Very nice to see Hollis back in the game recently. Nice EP once again... // Simbad: Very nice! // Peter Kruder: This is such a great 12"!!! Love all the tracks and especially that amazing Rubini Remix. Will play this for sure... // Doctor Dru: Yes, my style. // Mario Basanov: I like it! // Tensnake: Go Home is beautiful, reminds me of someting oldskool, nothing better is great broken beat. nice EP // Nick Chacona: Damn such a long time is so dope!! // Mark Farina: Always interesting things coming from the compost heap. // Trickski: All tunes are great! loving the originals the most! Black 80s are on fire! // Adana Twins: Like Go Home!

Info:
Hollis P Monroe under his new alter ego The Black 80s. Four passionated more expansive deep-rooted (real deep) house gems. Lovely and classy.

Hollis P Monroe is responsible for classic songs in both the Deep House and Funky Breaks genres. Since 1994, Hollis has made sporadic but significant musical contributions on highly respected labels including Ovum, Defected, West End, Stickman, Soul Candi and Jive Electro. Since early 2012, Hollis has been refueled by Noir Musics highly acclaimed remixes of his timeless track I'm Lonely and rejuvenated by talented music veteran but newcomer to House music, Overnite.
Overnite brings his vast experience as a vocalist and producer into the musical direction, DJ sets and live performances as they swiftly move forward as The Black 80s.Initially billed simply as "Hollis P Monroe and Overnite", The Black 80s have already made a big impression on the House community, starting with stand out collaborations with Rampa for Keinemusik, Trickski for Suol, and KiNK and Sierra Sam for Upon You.As well, they have well-received releases on Noir Music, NAU and forthcoming appearances on Freerange, Stranjjur, and Noir and upcoming collaborations with Bloody Mary, Trickski, Flash Mob/Dirty Channels, and Coyu.

Ibi Vaughan grew up a stones throw away from the heart of east London. The sounds of Fela, The Beatles, Stevie Wonder and Lionel Ritchie would play from the living room every Saturday afternoon, as she wrote and performed songs with her year older sister.From the age of eight, she had already crafted songs about love, friendship and the love of the beat. Almost a distant memory till she revisited her first love just before leaving university. A wonderous time exploring elements of jazz, soul, acoustic and African genres. She would compose songs about change, reflection, rebirth, poverty and love. Inspired by Lauryn Hill, Jessica Care- More, Amel Larrieux, Common, Joni Mitchell and so many other artists and poets, music became an existence. A reason to dream, and to strive.In 1998 she performed on stage with hip-hop group Supreme Beings at the Jazz Cafe, and various other venues in London, and lent her vocals on various other artists tracks. Her love of writing and collaboration would take her on an eclectic, spiritual journey of song writing, jamming, performing, producing, and recording leading her to Philadelphia in the early part of 2002. Surrounded by the extraordinary sounds of Jill Scott, The Roots, Musiq and the enigmatic, entrancing sounds of pure, undiluted House music. An impromptu song-writing invitation by Hollis P Monroe to his wonderful track resulted in the conception of Nothing Better, a fitting title to her love affair with music.

DJ and producer Denis Rubini, better known simply as DJ Rubini, is in high demand at the moment with his own label Degustibus Music.
He started his career in the early 90s, totally involved in the new italian house-underground vibe of that moment. Towards the half of 90 he enters in contact with the Bologna house-scene and in particular with the Pastaboys (first inspiration and good friends of DJ Rubini) and performs frequently at Kinki, historical and influential club of the underground dance movement. During the same period he plays in important clubs in the Center and North of Italy. In 1993 he found the City of Saint Studio, his recording studio and began networking with different people from the music industry leading to a collaboration with Gabriel Covacich aka Glitch (Nano Rec) and to the Sub-7 project, signed by EMI with the track Tokai.
Currently based in Berlin and inspired by the citys explosive dance scene he works from his new recording studio at some disco-house tracks. At the same time he organizes and plays number of events in Italy and abroad for Nano Records, DJ Spiller's own recording label. Out soon on "Time for House", a compilation on Ladies & Gentlemen Records, Phonique's own imprint.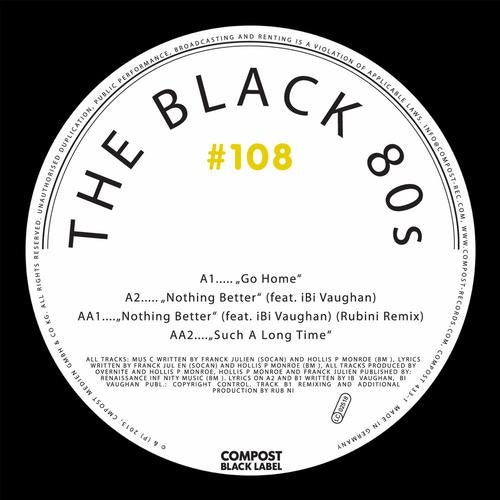 Release
Black Label 108
Release Date

2013-11-22

Label

Compost

Catalog

CPT4331