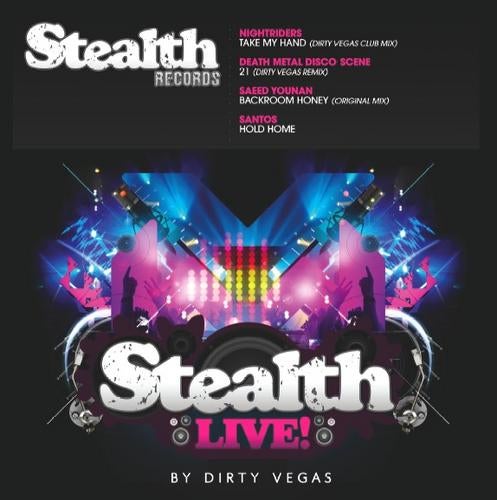 Stealth Live! is all about capturing the raw dance energy of outstanding artists. A direct and undiluted experience of performance, live in the balance. The inspiration, perspiration, whoops 'n' cheers that define what 'live' really means, to both the artists and their audience. For this reason, Roger Sanchez and his label – Stealth – are proud and honoured to announce that Grammy Award-winning British dance trio and all-round good guys Dirty Vegas recently mixed up a storm for the new Stealth Live! album (on Saturday 3rd October) at club Sankeys, Manchester, UK. Two mixers, two laptops, four CDJs + three super-talented artists: a live concerto of interlaced beats, vocals, percussion and effects, set in an intimate environment, with an up-for-it crowd. This was one hell of an intense party that shook the walls and rattled the roof of the recently refurbished Sankeys: one of the best clubs in the world, as voted by DJs, according to DJ magazine.

Yes. As if 2009 had not been hectic enough for Paul Harris, Ben Harris and Steve Smith, from their remixes of Dizzie Rascal/Calvin Harris and Ladytron, to producing their own single 'Changes'. From live shows at Glastonbury and Creamfields, to dropping a dope DJ/live set at the Stealth Live! party at Amnesia in Ibiza. With their latest hit, 'Tonight', which is 2009's official International Music Summit anthem, blowing up, and an eagerly-awaited third artist album on the horizon, all eyes are again on Dirty Vegas as they turn up their talents on Stealth Live!

'When we played Stealth Live! at Amnesia this year, we showcased our new DJ/live set. This includes us playing a DJ set with live percussion, vocals and FX, where we can fuse a live performance with a DJ show, making each Dirty Vegas DJ show unique. We are so excited, with Stealth giving us the chance to record this kind of one-off show 'Live' in a club environment,' commented Steve Smith.

Of course, Dirty Vegas know acutely the value of conveying energy and emotion in dance music. Their biggest smash 'Days Go By' is burnt into the minds of millions. Plus, they've remixed the likes of Madonna and Justin Timberlake, and composed music for film and TV. Still, at the same time, they demonstrate an enduring underground party spirit that reminds everyone why the band got into house music in the first place. And this is now captured, right here, on Stealth Live!. In short, Dirty Vegas laid down a highly charged and emotive mix for Stealth Live! that is packed full of top tracks. These include two very special and exclusive Dirty Vegas remixes: of Nightriders' 'Take My Hand' and Death Metal Disco Scene's '21'.

Stealth Live! has previously held parties in Ibiza, Miami and the Netherlands, and the first ever Stealth Live! compilation came from Dutch dynamo Laidback Luke. Now, for the second chapter, Dirty Vegas have taken it up another level after turning it on live, as only musicians of this calibre can. Their explosive show saw the guys excel themselves, big time, and will now soon be available worldwide to fans of quality club sounds.

Stealth Live! mixed by Dirty Vegas and recorded in front of a live audience at Sankeys, England, will be released by Stealth Records on 6th November 2009.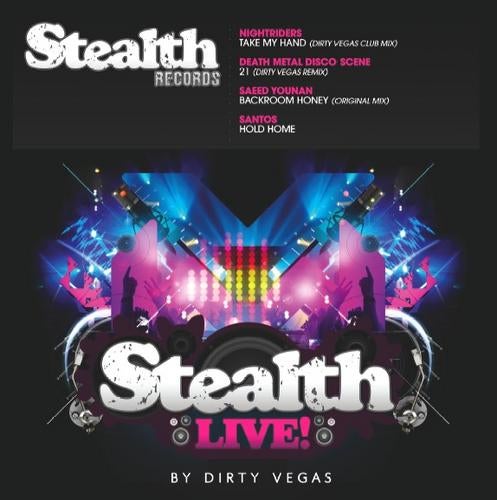 Release
Stealth Live! By Dirty Vegas EP