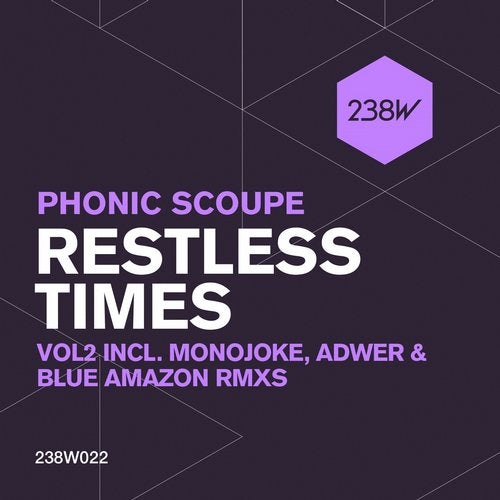 Release Date

2015-05-18

Label

238W

Catalog

238W022
Phonic Scoupe's glorious melodic offering, "Restless Times" was originally released on their eponymous standout EP on 238W last year. Since then, the Lithuanian based combo has had a 2015 to be proud of with their work released on Fade, Stripped Recordings and 238W. Supported by the great and good of the DJ world, Hernan Cattaneo, John Digweed and Nick Warren are not the only ones to recognize Phonic Scoupe's talent. We are delighted to announce the remix edition of "Restless Times" with rework treatments from iconic figures in the world of progressive house music, with two of them marking their debut on the label.

Lee Softly aka Blue Amazon has had a huge string of respected and successful releases under his considerably sized belt. He caused a storm with a ready supply of rhythmic, high-energy tracks that saw releases on Stress together with John Digweed under his Bedrock guise, Subversive and Convert. Blue Amazon marks his debut 238W outing with a trademark rip-roaring, rhythmic master class. A generous serving of house rhythms, tuned percussion loops, and sustained pads and are expertly combined with a breakdown that subtly brings in elements from Blue Amazon's original work, before returning to full rhythmic force, providing another example of his unique talents.

From production central of Budapest and Cali, Adwer needs no introduction to those following the output of one of multicultural finest progressive exponents. With great production credits to his name for the like of Baroque, Stellar fountain, L2 Music and Bonzai Progressive. Marking his 238W debut, Adwer brings his considerable skill set to "Restless Times", making full use of his distinctive sound by reinterpreting the melodic elements with wonderful sensitivity and expertise. Adwer's progressive passions are in full effect as the track rises and falls in intensity with effortless ease, combined with rhythms that will have dance floors full of joy unbounded. This is an extremely impressive and meticulous remix.

The 3rd rework comes from none other than Polish master Monojoke who is immersed in a clutch of high-caliber labels like Stellar Fountain, Balkan Connection and Clinique Records with a refreshing verve and spirit. For his "Restless Times" interpretation, he provides a strong crisp beat that gives force to a warm bass groove, as an ominous tone is provided by a deliciously deep string progression that reaches a crescendo against a collage of effects and crystalline lead motif. Melodic fragments trill in the foreground, as the third movement emerges triumphant against a backdrop of head-swaying percussive rhythms, before falling away and finding their way back inside the bouncing rhythmic and melodic bed that form the track's basis.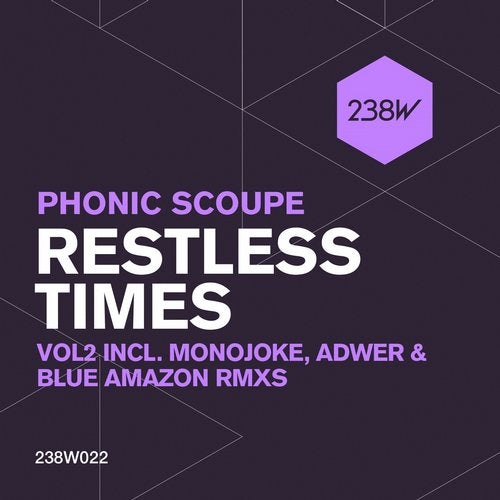 Release
Restless Times Vol.2
Release Date

2015-05-18

Label

238W

Catalog

238W022