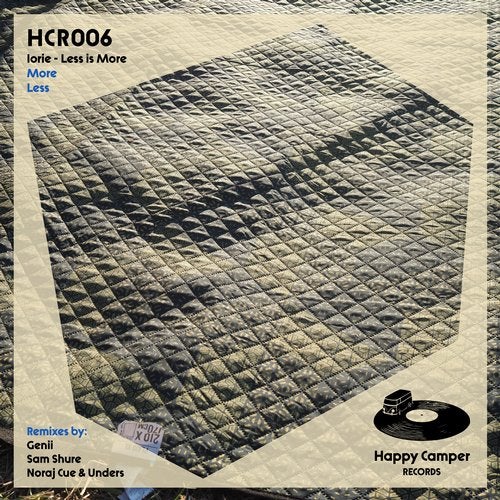 DJs are a nomadic people. Drifting between venues, airports and hotel rooms, they're always on the hunt for new music and clubbing activity. They are, indeed, the Bohemians of the 21st Century. Or as Britta Arnold, unders and Noraj Cue would call them: Happy Campers.

2018 has been a magnificent year for the Happy Camper family. Much has happened since the imprint burst unto the scene with HCR001, 'Story at the Campfire.' Five releases further down the line, the family is bigger than ever, and the signature sound is ever more refined. This sixth EP by German favorite Iorie is another team effort. And with Sam Shure, Genii, Unders and Noraj Cue on remix duties, you know it's set to rip floors across the globe.

Iorie is a remarkable human being. He's been singing, playing instruments and producing music since the tender age of 15. Inspired by his extensive travels and his many international encounters, Iorie writes cryptic lyrics, which he sings in mesmerizing ways. Happy Camper crossed his path in KaterBlau (where else) and instantly fell in love with his tantalizing vocals and sounds.

Both the original mixes on this Less Is More EP showcase Iories exquisite ear for details, and his knowledge of musical theory. More may sound soothing at first, but you're in for a treat as soon as the synthesizer starts ripping it. Both Sam Shure and Genii have made some excellent reinterpretations, Sam Shure adding a delicate and euphoric pads and pianos, and Genii taking it down a notch for those extra slow-burning vibes.

Less takes you deeper into the dark night, its compelling bassline wooing you into a state of hypnosis, before hurling you back on your tippy toes again. Happy Camper head honchos unders & Noraj Cue team up for a very tribal contribution. Feel the drums resounding through your limbs, as you bounce your way to blissful oblivion.

Come to the Happy Camper side… they have cookies!