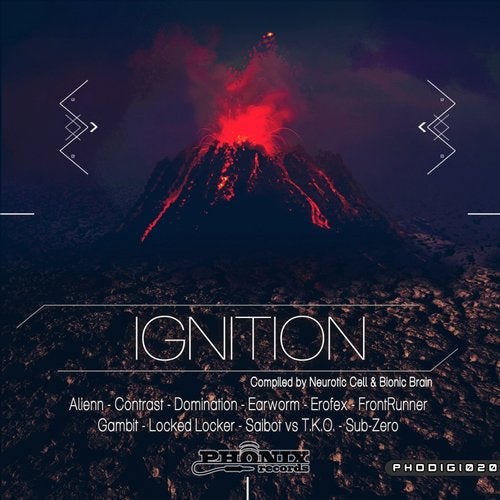 The term 'Ignition' can mean many things. To some it is the onset of combustion, where a substance catches fire. But for DJs Bionic Brain (aka Charlie Martinez/Bolivia) and Neurotic Cell (aka Jesus Horacio Reyes/Mexico), it represents the turning point at which things move to the next level. With that in mind, they combined their powers and found a home for 'Ignition' at Phonix Records.

Shaman Erofex (Efrain Candia/Bolivia) initiates listeners using ancient arts of sonic manipulation, giving a murky yet accurate glimpse of the future and the journey to come. As reality slowly creeps in, Contrast (Conor James Steed/South Africa) begins a hypnotic journey taking listeners 'Nowhere Slowly'. With immersive soundscapes and squelchy grooves, this is an unrelenting stomp into a place of deep introspection. Don't let the name of this ride fool you though, for nowhere is still somewhere after all. Here we find a distortion in time, leaving in the Phonix labs something that transcends 'Physical Matters'. Originally synthesized by 3D scientist Smashed (Romain Moly/Spain), this track is now reworked by wizard Earworm (Max Meshiv/Israel). What listeners are left with is an incredible RMX that is uplifting yet spooky with the power to make listeners move. And move they will.

Bionic Brain and Neurotec take this release to the next level with the title track, 'Ignition' by Locked Locker (Marcel Espindola/Brazil & Josue Guzman/Mexico). This is the ultimate culmination of what these talented DJs envisioned with their compilation. A true turning point that defines them and their work. Locked Locker pack this track with laser leads, and a monstrous mechanic bassline only the way they can. Master Alienn (Patrick Ferreria/Portugal) follows up with a special 2017 Edit of 'Beyond the Secret'. An explosion of energy and melody, Alienn showcases his signature sound here and firmly takes listeners to staggering new heights. Not to be outdone is newcomer FrontRunner (Marc Le Roux/South Africa). 'Do you know' is sometimes sleazy, sometimes groovy, and ever evolving. Listeners beware! FrontRunner has arrived and is here to stay! Keeping the momentum going is rising star Domination (Ricardo Berreto/Mexico). 'Warboy' is a real rumbler of a tune characterized by laser sharp sounds and aggressive grooves that pack enough adrenaline to wake the dead.

Moving onward, the release takes a more introspective turn with the help of Saibot (Arel Bank/Israel) and T.K.O (Takumei Okumura/Japan). 'Planetary Nebula' is full of deep atmospheres and tight basslines that help listeners explore the limits of the universe. This marks the final and darker phase of Ignition. Gambit (Daniel Zelvanski/Israel) shows listeners how even in the shadows, there is a place for 'Collateral Beauty'. A well thought out and masterfully arranged story. The final chapter of Ignition drives this point home. Sub-Zero (Adelino Alfona/Portugal), known for his deep intense style accompanied with roaring melodies, provides a fitting end to this release with 'Subliminal'. Epic melodies balanced with powerful grooves make this a truly haunting story that leaves listeners chilled to the bone.

Bionic Brain, Neurotic Cell and the Phonix Family thank all the artists and supporters of this incredible release. With that said, we humbly ask listeners to trust us as they have done many times before and will do so for many solar cycles more, and take us to your speakers! All systems are a go, it's time for Ignition!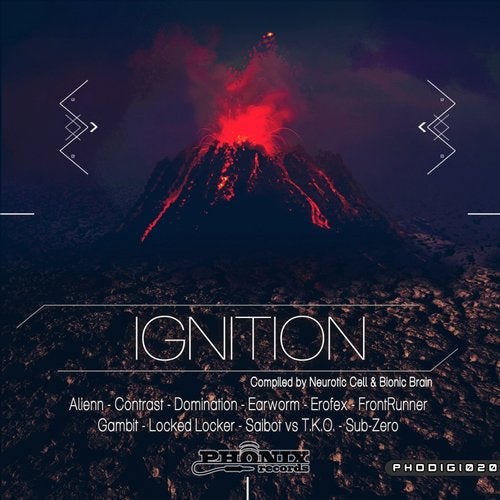 Release
Ignition
Various Artists

Release Date

2018-03-02

Label

Phonix Records

Catalog

PHODIGI020