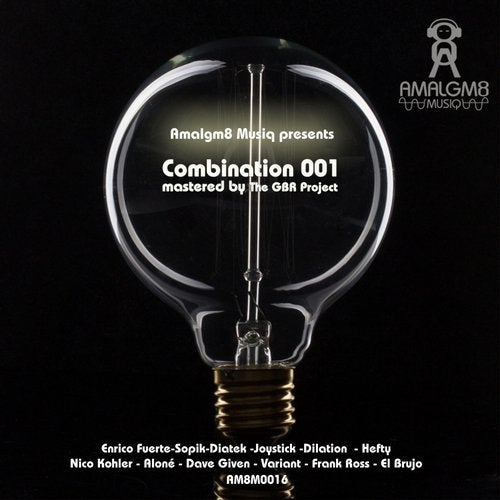 Amalgm8 Musiq cordially invites you to the first various artists compilation to celebrate 1 year of providing you with the most cutting edge Techno around. We are super proud and excited to present this immense 10 track compilation which represents proper underground techno in all its flavours from hot new up and coming artists to some of the scenes biggest hitters .
We kick things off with Aloné's track - What U, a deep dirty roller with twisted synths and stabs and a sleazy addictive vocal breakdown, this is perfect warm up gear for those earlier sets to get the dance floors moving.Plenty of dirt perfectly counteracts the deeper elements of What U to make this a very accessible piece of techno. Next is label boss Variant's resurrected remix of Dave Given's lost track ' Moldead ' which represented the transition of his switch from previous alter ego Moldavius to new monicker Dave Given. Variant went in big on this one with crushing percussion and growling bass with hypnotic synthlines weaving in and out the track to create a throbbing snarling techno beast. Up next is Scrambled Egg, from label artist Dilation, this is proper unique stuff here with a driving broken beat that keeps things frenetic with plenty of variation and percussive intricacies, twisted organs and synths keep the vibe mental into the break which gives you just enough time to get your breath back before S*** gets crazy again, Tom always delivers something pretty special as Dilation and he definately brought it for this inclusion. Next we have Tesla by Italian producer El Brujo, this one rolls and purrs nicely with plenty of rumble and becomes full on hypnotic driving gear once all the layered synthlines have fully matured and command your body to move. Coming next is Enrico Fuerte's Altitude, a no messing head down solid techno groover with more than enough dirt and rumble to work the floor into a frenzy, earthshaking gear from one of the scenes hottest right now. Up next is man of the moment Diatek's blisteringly technical remix of Enrico Fuerte & Sopik's track Negative. Diateks remix keeps moving forward and evolving throughout with some really cool timestretch fx scattered through the track, and clever use of the original samples, this will surely kick holes in speakers destroying all dancefloors in its wake, big remix gear from the mighty Diatek. Track 7 is from Frank Ross who will have a full ep out on Amalgm8 Musiq next month. New World Disorder is a dark and unsettling techno trip with a tight solid groove and subs, throw in synth lines blacker than obsidian and vocals delivered straight from hell and you have a dark techno masterpiece. Up next is the pre eminent master of dark tek the man you all know as Hefty. With Alien Threat, Hefty serves up a wicked dark sci fi tekker that moves along at a slower pace than the other tracks on this release but with just as much purpose. Tight percussion and a well restrained rumble keep you locked in the groove while eerie childrens voices seem to come from another dimension altogether at certain points in the track. Alien Threat moves as if pulling you on an invisible tractor beam into a break of deep hypnosis as the alien mind control starts to take effect, the twisted male vocals penetrate your mind and when Heftys subtle intricate synthwork makes its appearance and becomes prominent the track comes into its own and commands full attention from the entire human race!! Track 9 ' Vostok ' is by Canadian producer Joystick and its a real proper minimal treat. Sparse slow moving percussion and subs set the tone while scratchy bursts of static colour the track and set the concept of interstellar travel. As we travel deeper into the track Joysticks clever synth layering and fx evolve with the blips and bleeps that could be the lost transmissions from Vostok itself. We close out this immense selection of forward thinking techno with Nico Kohler's ' Looking Down '. This one grabs you right off the bat with a deep pounding kick that demands your full attention, it all rumbles along nicely and the sparse skippy highs, occasional vox cuts and fx keep things interesting and moving forward while the main synthline is relentless and screams proper techno.
So there you have it, Amalgm8 Musiq's first Various Artists Compilation, i have to say i cant be prouder of my team and extended techno family, a huge thanks for the music and hard work and of course a huge thankyou to you the djs and the fans for the amazing support.
From us all at Amalgm8 Musiq, Happy New Year 2016, lets make this one the best yet!!
Cheers.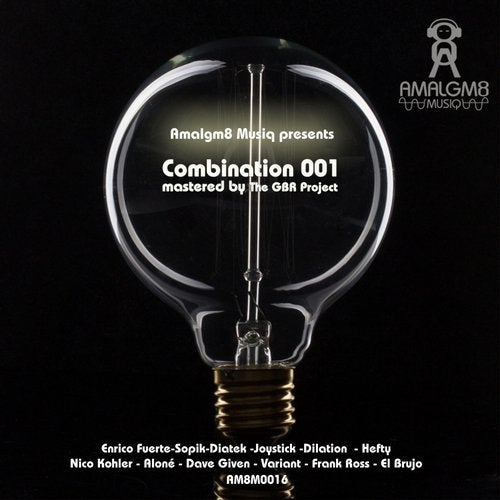 Release
Combination 001
ALONE, Dave Given, Dilation, El Brujo, Enrico Fuerte, Sopik, Frank Ross, Hefty, Joystick, Nico Kohler, Variant, Diatek

Release Date

2016-02-19

Label

Amalgm8 Musiq

Catalog

AM8M016