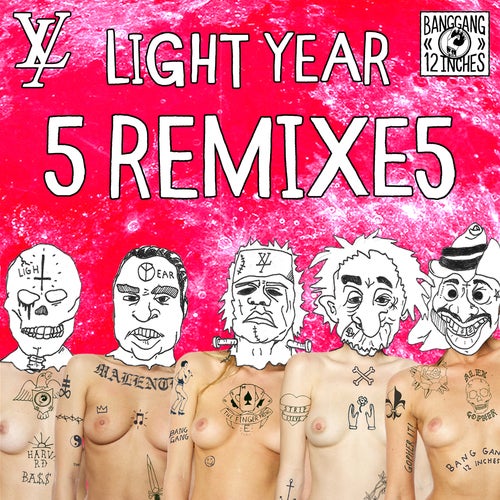 Release Date

2011-07-15

Label

Bang Gang

Catalog

BANG044
With jaunts of both Europe and America coming to an end , Light Year are set to drop their 5 girls remix ep on the general techno public.

They have had the pleasure of remixing a varied bunch of artsits. And always to a marvellous effect. Surkin, Diamond Lights, ZZT, Feadz, The Finger Prince, Alex Gopher and Malente have all be given the one-up the butt, and the proverbial thumbs-up has followed shortly from an array of listeners and critiques. But now it was their turn to be bent over and played with. In the nicest possible way… a gentle massage, or in some cases a tough mexican one (haven't had one ? you must try) and in all cases they ended with a happy-ending. Now before i drop anymore lame sexual innuendoes here is the necessary info you need to explain what they sound like to Bob over in accounting.

Harvard Bass does what you can expect him to do. He creates a drop so big that even the scholars over at Ivy League get their knee caps vibrating to the bounce. It is what it is and there is nothing else like it. BASS, BASS and more BASS.

The Finger Prince reacquaint the listener with the missing art-form of the hypnotic grind, a hugely popular scene maker back in 2002. If you were not familiar with this - it is time to open that 3rd optical, break out a shag rug and get down to the Finger Prince Sound.

Alex Gopher's remix of PSA covers the full spectrum of what he does best. FUCKING AMAZING dance music. If you don't/can't dance to this - please inform me and i shall send some high grade MDMA over to your place soon. Maybe this will help you - it is likely that it won't though.

Strip Steve shows his age… well no he doesn't. He probably shows more of his father's age in this housed up thumper. It is called a thumper for the reason that it thumps. It goes, thump thump thump. I believe that thumping is actually quite attractive. Very sexually charged. Like high octane GHB….

Malente take Marcellus Up Up then..... BOOM. With Duble the trouble. Two big room versions to get it Poppn in da club. This Veteran has spent enough time in the game to know how ta get da bitches shakin they bootays.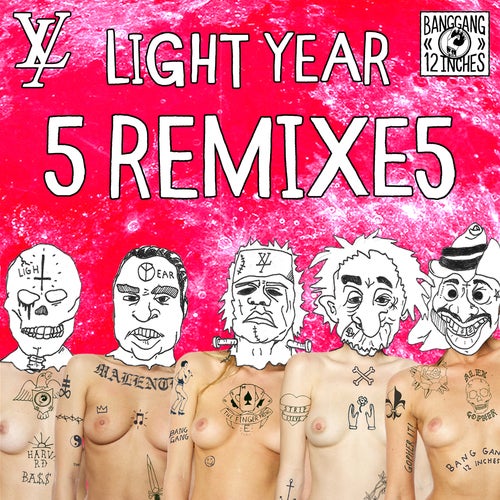 Release
5 Remixes
Release Date

2011-07-15

Label

Bang Gang

Catalog

BANG044