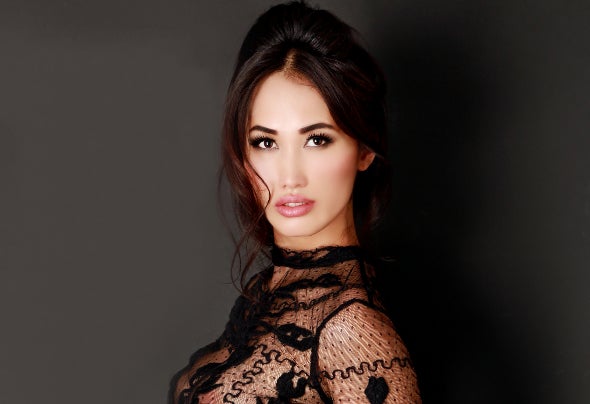 Angie Vu Ha is a model, actress, DJ and producer. She is best known as "Asia's Sexiest DJ" and was ranked Number 1 Female DJ in the prestigious Top 10 Asia and The Sun Las Vegas named her the sexiest DJ in the world. America got to know Angie Vu Ha on the Season 10 of America's Got Talent with Nick Cannon. Angie Vu Ha took her act from Asia to New York City. Stared out as a high fashion model; Angie's passion for music led to her first big gig as resident DJ for the New Asia Bar in Singapore, which was awarded the coveted "World's Finest Club." Angie rose rapidly as a DJ, playing multiple times for the Singapore Grand Prix (Formula 1), Baku F1 Grand Prix and high prole events for Fashion TV (FTV). She DJ'd for Jay Sean's Asia Tour and played alongside many A list DJs. Angie had played in biggest nightclubs in Singapore and New York and travelled
intensively to DJ internationally from New York, LA, Las Vegas to Singapore,
Melbourne, Dubai, Shanghai, Beijing, Hongkong, Bali,... in dozens
of countries. All these helps Angie gained her popularity with 270,000 fans on Instagram and 2,6 millions fans on Facebook. In October 2012, Angie won Playboy's Miss Social contest. On September 2015, Angie became Playboy Playmate in the DJ special issue of Playboy Venezuela. More than just a good looking face, Angie stepped in the studio and produced singles Cookies, Cream, Cyber Sex, So Damn Hot, Utah,... to name a few. Her rst single Cookies, which gained instant support from BBC Radio 1's Judge Jules, Marco V, Lisa Lashes, and Michael Woods. Her second release Cream gained the support from Gareth Emery and Marco V. You can hear Cream play on Ministry of Sound radio from Adam K. 2020, Angie released "Obliviate", collaboration with Cuebrick and Futuristic Polar Bears reached #5 on Beatport's Big Room Chart. Her latest single "Addiction" released with Maxximize Records and Spinning Records charted #7 on Beatport Big Room chart.