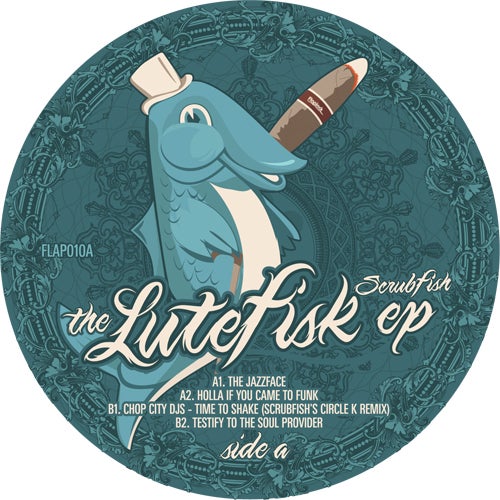 Release Date

2010-10-26

Label

Flapjack

Catalog

FLAP010
Grab your fishin rod and lets head down to the river and catch us Flapjack Records 10th vinyl release! Scrubfish attacks us with his first solo EP since his transformation from a fresh water fish to a salt water serpent. This fresh filet The Lutefisk EP is definitely the catch of the day with its super fresh sound. Its so hot we cant even put a price on it, so its listed as market value in the price column on the menu.

Reeling in the first round , The Jazzface is a boneless cut of the finest fish that melts in your mouth with a drizzle of butter and a wicked bass line. Jazzy enough for the captain of this ship, and one scurvy dog away from a mutiny on the dancefloor.

"Holla If You Came To Funk" has pirates everywhere on a mad hunt for this booty. Chock full of funk and fish breath, this jam is cut throat on the dance floor and scales fish faster than a fat kid on a Twinkie. Watch out for those horns cuz you might go through a few lines try to pull em in.

Next up Scrubbers snags a remix of Chicago boys Chop City DJs - Time To Shake (Scrubfishs Circle K Remix) which is a technologically advanced mechanism to make fish dance. This remix is so good that it won a guest spot on The Deadliest Catch and went on to win a daytime TV Emmy Award for its small role as background music in The Filets Of Our Lives.

Filling the quota for this months catch, Testify To The Soul Provider is so plentiful a dish that we have freezer warehouses in Japan filled to the ceiling with its funky fresh groove. Flash frozen and shipped daily to dance floors all over the world, this jam is to be enjoyed by everyone everywhere. As nasty as The Lutefisk EP tastes, it sounds even nastier out of a banging club system.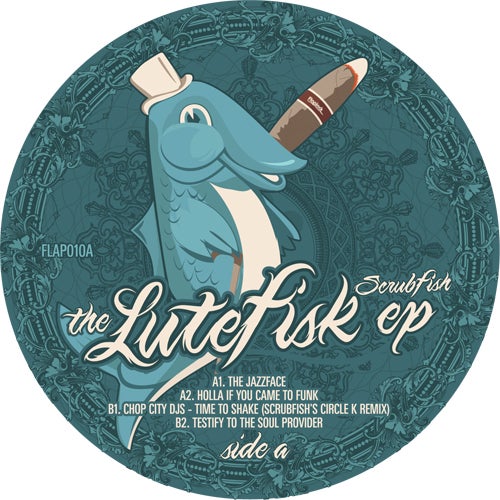 Release
The Lutefisk EP
Release Date

2010-10-26

Label

Flapjack

Catalog

FLAP010