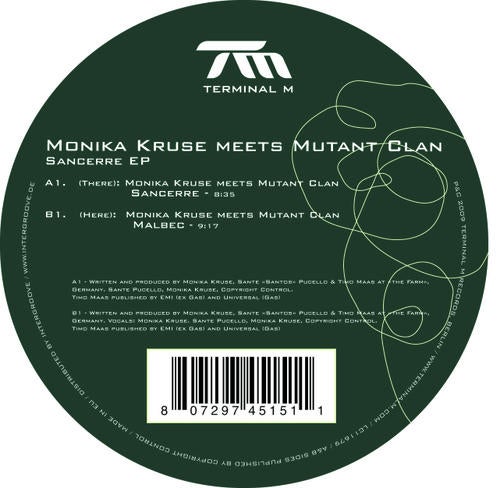 Release Date

2009-12-11

Label

Terminal M

Catalog

TERM071
Terminal M proudly presents Monika Kruse meets The Mutant Clan (aka Timo Maas and Sante "Santos" Pucello).

Monika Kruse, the Grand Dame of techno hooked up with the nasty boys Timo Maas and Santos for an incredible music collaboration that will hit the stores in December 2009.
The 2 titans of German Techno Music joined engineering mastermind Santos, in Timo & Santo's studio "The Farm" earlier this year to create 2 trippy and powerful dance floor fillers.

Timo Maas, one of the few global German DJ players, producer and remixer's, is one of the stronger influence on the electronic music scene for nearly a decade. Passionate about music and is open to other music styles, he has worked among others like Brian Molko (Placebo), Nenneh Cherry and Kelis.

Timo Maas' new project is called Mutant Clan and is made up with the Italian wizard producer Sante "Santos" Pucello, who was and is the producing force behind great tunes like "Hold Home" which was released on Moon Harbour. He currently has a releases on Len Fakis label "Len Series" and a new release that just came out on Cross Town Rebels.

Monika Kruse, label owner, DJ, activist just finished her very successful first solo album Changes of Perception, that was voted #2 as best album 2008 in Raveline Magazine, this autumn with the last of a 3 EP remix collection release. Her label imprints were home to artists and DJs like Len Faki, Miss Kittin, Tobi Neumann or Gregor Tresher.

On the new Monika Kruse meets Mutant Clan – "Sancerre" EP our electronic icons named both tracks after two wines – "Sancerre" and "Malbec". Deep, trippy, housie and percussive, 2 aromatic audio flavors.

The A-Side; "Sancerre", plunges us into a mysterious atmosphere: 3 wizards in a hut lost in the woods, mixing whispers, mutterings and frightening screams, all with a continuous warmer rhythm, tinted with percussions, crackling sounds and triangle rings. Let's enter the fantastic dance!

The B-Side; "Malbec", the worrying surrounding leaves the place to happier atmosphere where we are nicely caressed by Monika Kruse's mysterious murmurs flying over the excited bells rings and tribal percussions. A really housie spirit!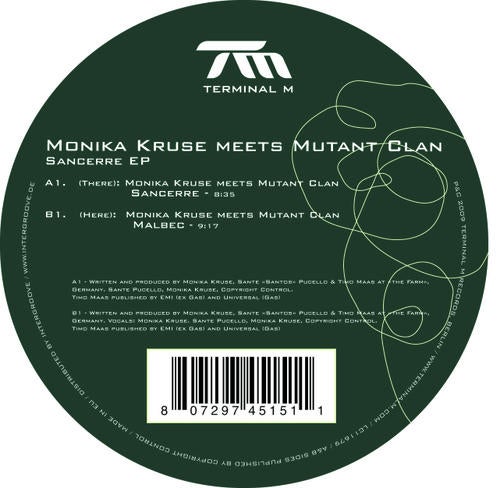 Release
Sancerre EP
Release Date

2009-12-11

Label

Terminal M

Catalog

TERM071