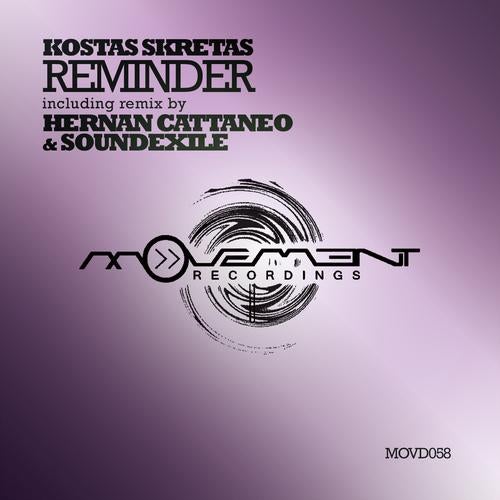 The 58th release on Movement Records sees Kostas Skretas returning to the label for his 3rd overall appearance and first single. Kostas is regarded as one of the top up and coming talents from the incredibly deep Greek electronic music scene. His past appearances on Movement, The Sound Of Everything and Sezer Uysal's Dark Pleasure Records have showcased the Greek producers deep, melodic sound very well. Kostas' first single for Movement is entitled 'Reminder' and it comes with a remix from: Hernan Cattaneo and Soundexile.

Kostas' original mix begins with a stripped, punchy groove that's accented with some clattering drums and anticipation building pads. This grows to eventually reveal an incredibly funky bottom end that's sure to cause some waves on the dance floor. Subtle atmospheric accents, granular percs and additional top end drums build the piece as a long looping melodic sequence fades in the mix before the main drop. The hypnotic lead is showcased here with some subtle modulation and a backdrop of glitchy electronics. The composition builds slowly back up with all the drum elements getting dropped back in and the lead sequence enveloping as the track reaches a smooth and understated climax.

The lone remix of 'Reminder' is supplied by Hernan Cattaneo and Soundexile who are a production trio that should really need no introduction. Hernan Cattaneo is one of the world's most well respected and cutting edge progressive house DJs and his Sudbeat label imprint is widely regarded as one of the top in its field. Soundexile is a Buenos Aires based production duo and frequent studio partners with Hernan who have been producing unique and fresh sounding electronic dance music since 2006. The pair are also very accomplished DJs having shared the booth with Hernan Cattaneo, John Digweed, James Zabiela, Dave Seaman, Sander Kleinenberg and Henry Saiz among others. On their 'Reminder' remix Hernan and Soundexile have taken the great melodic elements from the original and laid them down over a much warmer and fuller groove as opposed to Kostas' more stripped down sounding original. A wobbly wall of sub bass sits at the foundation with the bubbly melodic lines adding a wonderful vibe that is both melancholic and hypnotic all at once. Spacey atmospherics and trailing effects at the tracks apex add a shimmery haze to the piece which makes it one of Hernan and Soundexile's most irresistible compositions yet.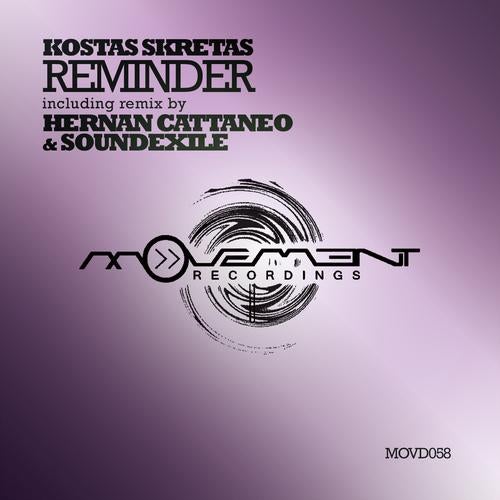 Release
Reminder