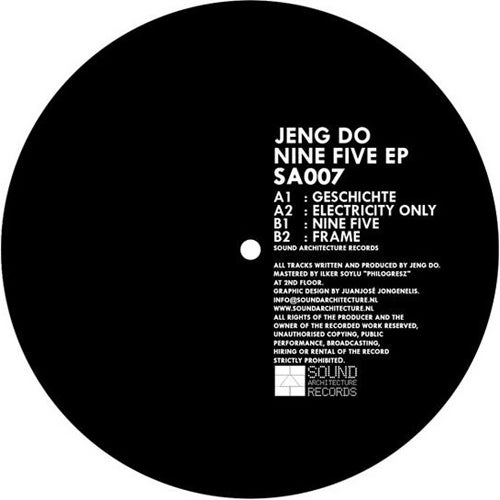 Release Date

2009-02-09

Catalog

SA007
"Supports and Reactions:
Steve Rachmad, Joris Voorn, Bvoice, Joachim, Philogresz

*Nine Five has been chosen as official Awakenings NYE Video track.


Release Info:

A1 Geschichte

This EP of Jeng Do starts with "Geschichte" which means "story" in German. It stands for the beginning of his musical story, as this is the first Jeng Do EP ever! But there is more to it. The track refers to Germany, with voice samples of both Helmut Kohl and of a German minister, who talk about the disappearing of the "the wall" and what that has meant to Germany. A qualitative and deep piece of work, with a story inside.

A2 Electricity Only

The second track "Electricity Only" was inspired by the importance of electricity these days, where greenhouse gas emissions threaten life as we know it. Somewhere between minimal and techno, the electric sparks sure do jump of the track..!

B1 Nine Five

Jeng Do gets his inspiration from world issue's, everyday life and everything around him. The title track "Nine Five" was inspired by everything that has to do with working from nine to five. From frustrations - as he is an artist all the way that would love to make music all the time - to the excitement one can feel when getting things done at work and getting positive results. The energy in this powerful track speaks for itself though!

B2 Frame

Last but not least on this EP is "Frame". An electro based track that builds up to a climax, meant to make the bigger crowds move - inspired by the feeling of unity one gets when partying together with happy people all day in the sun… The summer is coming !!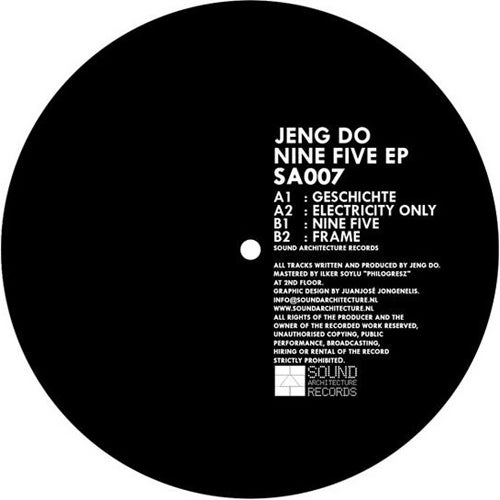 Release
Nine Five EP
Release Date

2009-02-09

Catalog

SA007