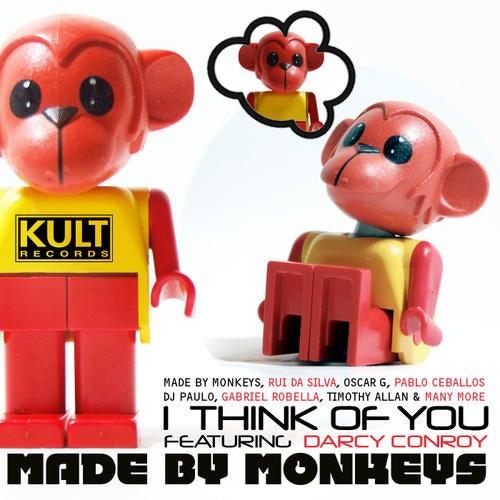 Release Date

2009-05-05

Label

KULT

Catalog

455X
Made by Monkeys are back after their Billboard chart topping single "I Try" with an even hotter new song called "I Think Of You" released on NYC's super hot KULT Records label. This song is guaranteed to stay at the top of your IPOD's playlist or rock ur dancefloor. This yet to be released single is causing quite a stir on both sides of the Atlantic. "I Think of You" is creating a worldwide buzz because of mixes by new Ibiza resident Rui Da Silva, Miami's own Mega Star Oscar G, Iberican Superstar Pablo Ceballos L.A. based Top Producer DJ Paulo as well many more incredible producers such as KULT's rising Star Gabriel Robella whose mix was released as exclusive pre-release on Eddie Cumana's best seller compilation entitled KULTFLIGHT 001 and to date is the biggest seller as a single download charting on Beatport for months!
The label has now just released another teaser mix in their WMC KULT Party sampler which was the soundtrack to the WMC KULT Records label party to be held at NOCTURNAL nightclub with superstars DJ Vibe, Carlos Fauvrelle, The Scumfrog, Eddie Cumana, Stephane K, Cevin Fisher, Carlos Manaca, Gabriel Robella, Amador, Ivano Bellini, Giangi Cappai, and more! The mix available on the WMC is the Salvatore Mix, which is the mix that Oscar G loved at first play and re-remixed to perfection. In addition, Oscar G used his mix as the opening song on his Live@Space double CD/DVD that will be released May 16th. A live clip taken from shooting Live@Space & posted on Youtube and got "I Think of You" a lot of attention. So much so that Oscar G says we won't believe how many people write him to ask for the song ID. We believe it because we have experienced the same kind of positive signs; Ceballos & Dj Paulo turned incredible mixes for pure love of the vocal; John Digweed has been banging The Rui Da Silva Mix all over the Radio; Made by Monkeys was able to debut the first live performance of "I Think Of You" at the prestigious Black and Blue Festival.(How many songs get to debut at the festival while yet unreleased? Not that many!) Perhaps this is just a sign of things to come for Made by Monkeys.
Everything they touch turns to gold and this song is no exception!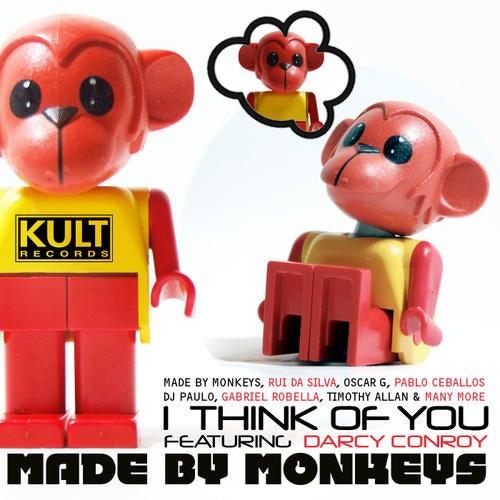 Release
I Think Of You (Part 1)