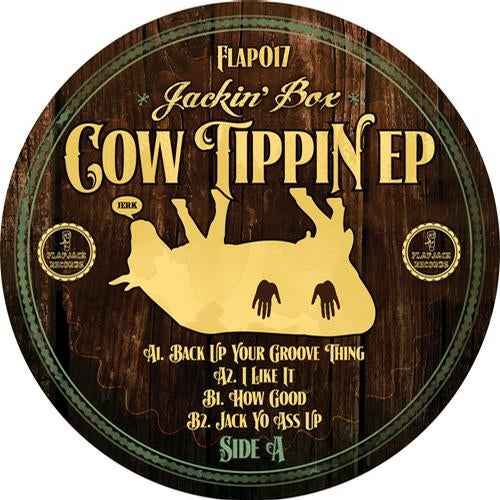 Release Date

2012-02-28

Label

Flapjack

Catalog

FLAP017
Returning to Flapjack Records vinyl department after a 10 release difference are those lovely UK chaps Jackin Box. To celebrate their return, they present us with the time honored traditional fun filled experience of the Cow Tippin EP. I used to think this may have only been an American past time, but apparently this is an international phenomena. Not only do we love to eat cows, but we like to fuck with them for fun, by pushing them over while helplessly asleep standing up in a field. What a total dick move, but is as equal in fun as it is in douche baggery. So Flapjack commends these boys and the fine jams that have inspired such mindless fun.

If you are big fan of a huge pile grade A angus beef chops, then Back Up Your Groove Thing is the fatty patty for you. This is an all out jam thick with greasy funk. The slap bass and vocal groove are so good that it raises your cholesterol just hearing the hook. Watch your phat calorie intake when the synth lead busts. That shit will not only make paper plates completely transparent, but clean your bass bowels like a colonoscopy on the dance floor.

"I Like It" is exactly what you are going to be saying about this wagyu beef slab. Thick and juicy all up in the speakers, and it sounds so good it makes your mouth water. It must be all that massaging these steers get before the dancehall slaughter. The cut renders like a massage for soul belly. You will like the taste, but absolutely love the mesmerizing sound.

Being in the land of fat America, I cant help but think How Good burgers are. They are just so damn meaty and tasty delicious just like this next cut. This is by far one of the best dance floor searing sizzlers Jackin Box has cooked up in a while. This cut just smokes the platter every time. How Good is so damn good that you gain weight just by listening to it.

The last pound of ground chuck funk is a swing blaster called Jack Yo Ass Up. Keeping with the times, this joint incorporates fresh flavor with time honored swing house traditions creating an overwhelming sensation of get yo ass up n dance. Dont worry about the fat and oil content because all you need to know is that it will come out just as wonderfully as it came in. Its the circle of trust. You can definitely trust Jackin Box to really bring it on this new Cow Tippin EP. The bring it, tip it over, and then run like fat chicks after new years from the cops!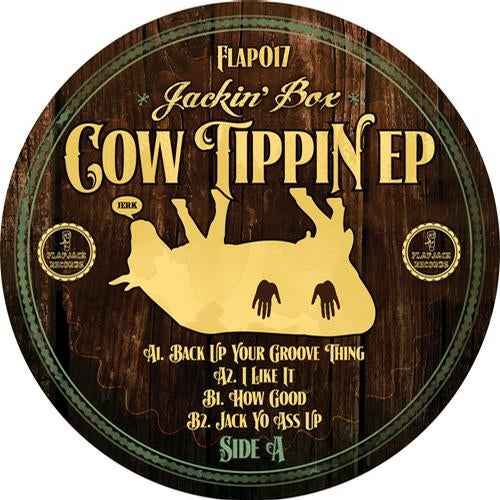 Release
Cow Tippin EP
Release Date

2012-02-28

Label

Flapjack

Catalog

FLAP017