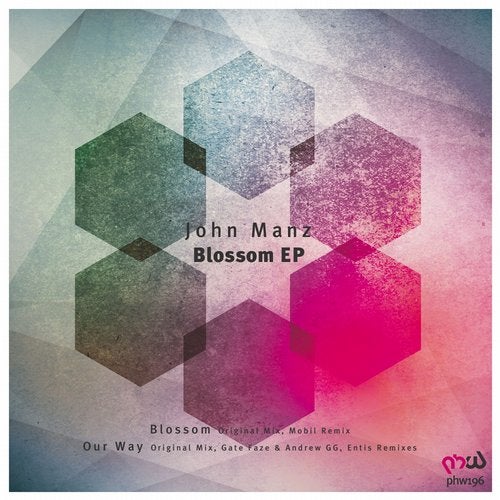 Release Date

2015-10-26

Catalog

PHW196
We are flying of for a new release on PHW today as we see our Mexican buddy Juan Martinez aka John Manz return to us with 2 fresh productions. As always he blend a great variety into his productions as he is a producer building fresh melodies and driving elements. These are 2 more exceptional productions that stands for everything PHW is about, fresh vibes from cool people.

The title track and also the opener, "Blossom", is a driving production, packed with great harmonies, driving beats and superb melodies written from this in fame rising producer. We are thrilled to bring it out to you and can't wait to see the reactions.

On remix duty for this track we have the exciting news to bring on a producer that has been a label favorite for ages as we see the Russian based Mobil making his debut together with us. Being a force on the scene with releases on Alter Ego, Perceptive Recordings, Vendace and many more over the years, we now finally got him together with us, and we are of course happy to see this. The outcome on the remix is absolutely gorgeous as well, as Mobil bring on a fantastic driving progressive trance act, packed with melodic structures, energy and drive. Be ready for the melodic breakdown that is a true magical experience!

The 2nd original from John Manz is another massive production including those rich melodic arrangements that has become his trademark sound. This is another beauty that will take you on one of those journeys, that we can assure you all about. It's a pure mint production once again!

On remix duty you will get a collaboration from 2 really promising names in the business, as Gate Faze and Andrew GG teams up to build their interpretation of the track.
With their warm and melodic vibe built, they will spoil us with a huge production, including the rich feel and sunny elements that gives us both shivers and a smile on our face. We are super happy to involve them on the label.

The 2nd remix is another new addition to our PHW family, as we see the rising talent of Entis joining our team. Having been in contact for a while, showing us productions (more to come, we promise), we felt we wanted to showcase his talent through this remix, and he definitely delivers a strong opener on our label. A full on "trancer" with a fantastic pace and energy is delivered for you all through this re-take, and we do hope and feel this is a producer that is here to stay.

Lets hope you enjoy what we have brought together for you all!