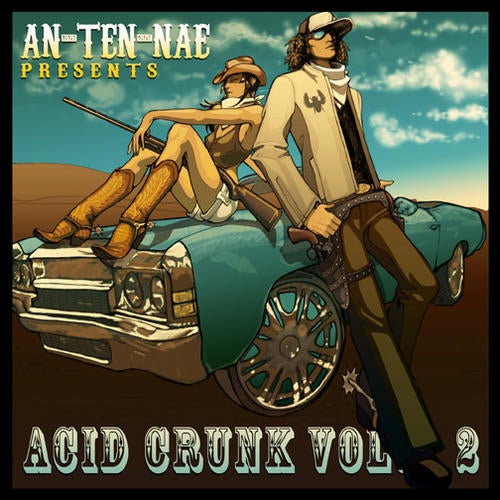 Release Date

2009-10-26

Label

Muti Music

Catalog

MUTI050
A very special 50th release for Muti Music and we're doing it in style with one of our top artists selecting tracks from internationalstars doing their flavor of 'Acid Crunk'. An-ten-nae has long been a purveyor of fine exotic beats and low slung crunk.
Acid Crunk Vol 2 started off as a free mixtape that has now been downloaded over 37,000 times. Now, what is Acid Crunk? It's a no rules genre bending booty shakin' synthesis of the dirty dirty that makes that subs in your low rider bump; and it sure goes nicely with that Ice Cream paint job. In the words of Martin Turenne (Straight.com)
Acid Crunk "Conjures the druggy textures of early house and  the fearsome bass of millennial hip-hop, marrying the West Coast breaks sound with the brooding atmospheres of London's dubstep scene." 

Acid Crunk Vol. 2 kicks off with An-ten-nae's own low frequency taser, Bang That, he locks in the dance floor with a deep electro groove and then fires up on all cylinders with a flick of the switch.Next up is Ooah (Glitch Mob
& PANTyRAiD) From it's lush start to its acid tinged convulsing basslines, Foolish Silence has devastated everydance floor it's been dropped on and his live performances have induced pandemonium across the globe,  Most recently he appeared on the soundtrack of Tim Burton's masterpiece film '9'. Datsik has virtually dominated the Beatport dubstep charts for months, and here again proves why he is a new standard in audio excellence. With Southpaw, Datsik delivers the goods. The other half of PANTyRAiD (aka Marty Party) turns Acid Crunk on its head with a jackknife of a bass-driven track. Following the current success of the PANTyRAiD album The Sauce, (Marine Parade) Marty 's forthcoming album, on the same label, due in January 2010.  From 'Down Under', our Australian agent in crunk, Opiou, adds a little funk with his crunk King Prawn. Look out for his forthcoming EP on Addictech Recordings. Akira Kiteshi has earned support across the board from the likes of Mixmaster Mike, N-type to Mary Anne Hobbs.With Ulysses, this Scotland native delivers his own nasty brand of alien funk infused dubstep from the 31st century.Head south to Bristol and you'll find Gemmy, one leg of the 'Purple Trinity'  (with Joker and Guido) His newest offering Bleep is some Bristol / Brizzle Bass Crunk guaranteed to turn those head
nodders into instant body rockers. For more of his unique brand of crunk, check out his track on Mary Anne Hobbs newest compilation "Planet Mu". An-ten-nae returns with Do You by UK supergroup Freeland (feat. Adam Freeland & Tommy Lee on Drums) He dissects the track into a heaving acid tinged monster sure to make all the ladies squeal.
The next 3 tracks showcase emerging talent from the US and Canada. Apox who hails from Nevada, Colorodo's own Samples and Ill-Esha & Dewey DB (Vancouver) throwing down tasteful and versatile tracks from the 'Glitch Hop' school of crunk. Collaborations often bring out the best in artists, and Pharma Sutra is a testament to that and this off beat slammer by Filastine (Barcelona) and Ill.Gates  (Toronto) will make your jaws drop.  Don't say we didn't warn you. Chillout maestro Bluetech helps bring things down a bit, journeying into thedeeper shades of crunk with Waiting For Initiation.Finally, no global journey into emerging electronic genres should be complete without a stop to Berlin,so we leave you with Robot Koch and his off-kilter beauty of a track Hard to Find, off his upcoming album Deathstar Droid.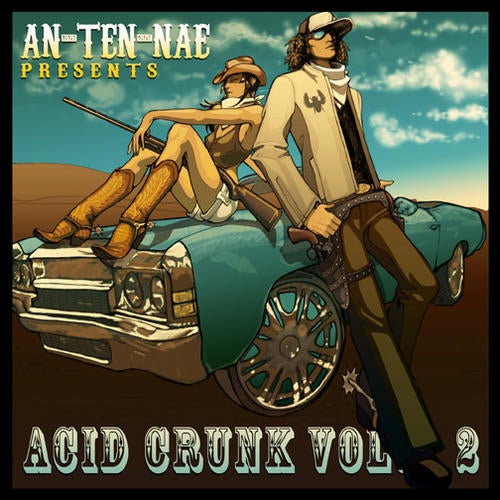 Release
An-ten-nae Presents Acid Crunk Volume 2
Various Artists

Release Date

2009-10-26

Label

Muti Music

Catalog

MUTI050