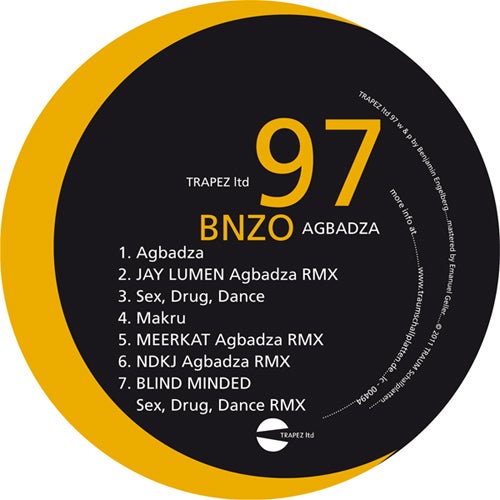 Release Date

2011-01-31

Label

Trapez Ltd

Catalog

TRAPEZLTD97
BNZO aka Ben Engelbert is an artist based in San Diego, California who is new to the scene... but who has already got great skills and a feeling for how to create great emotions... we see here a big talent coming.

Ben offers a high performance with his opening track Agbadza! There is no doubt heard once you will not forget this track.
A light at heart track with a huge dance floor peak time attitude that pulls all strings and tricks to turn the dance floor upside down!
It is also one of these tracks that puts a smile on your face. So what can we say... it is a DJ heaven category.
Jay Lumen remixes Agbadza in a similar fashion but adds all his DJ experience. Jay has it going with DJ gigs at Fabric/ London and takes no prisoners with his remix, aiming straight at the DJ he knows with what pace he can keep control of the main elements of the track.
Sex, Drug, Dance by BNZO is a real crowd pleaser that has a real catchy and tender side to it... it aims at the clubber, but still has these edgy experimental sounds coming in which makes it a perfect Trapez ltd track. Giving this track to the right DJ... this can be big.
Makru is a bit MBF style we must admit, but much more relaxed and friendly with the clubb really playing it cool even when it gets going and explodes on the dance floor.
West coast DJ and producer Meerkat who has supported James Holden with gigs there takes on the challenge to induce a bit of Traum feeling in his remix of Agbadza.
Meerkat has that certain band inspired vibe going which takes the track in a total different direction... one might look at it as a totally different track!
We have a cool and steady remix by Ndkj of Agbadza that rocks the ship home. Nice.
London's Blindminded with whom we have recorded 3 releases on Trapez ltd up until now has made a cool old school remix with a lot of analogue sounds and drumming. Including his own Blind Minded humour which makes the remix a unique and cool piece of music.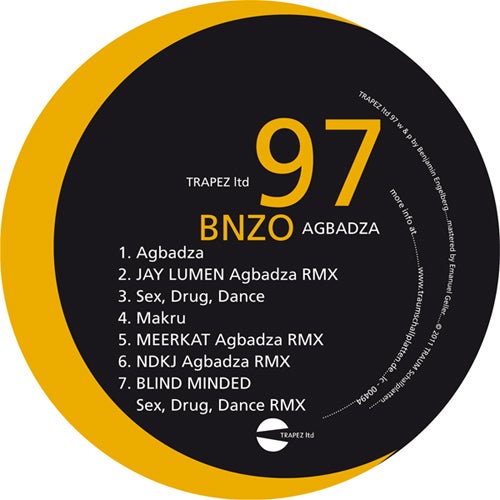 Release
Agbadza
Release Date

2011-01-31

Label

Trapez Ltd

Catalog

TRAPEZLTD97