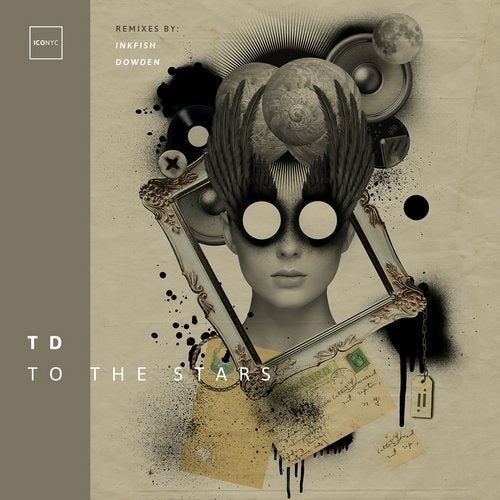 Hype
Release Date

2018-08-06

Label

ICONYC

Catalog

NYC103
TD makes a welcome return to John Johnson's ICONYC imprint with a brand new single entitled 'To The Stars'. Tomas Dahl aka TD hails from Oslo, Norway and made his debut on the US imprint in September of 2016 with 'Dreamed Up'. Subsequent releases on Paul Hazendonk's Manual Music along with ICONYC affiliate NYLO have made for an auspicious beginning to 2018. Now continuing that trend TD presents his latest single alongside remixes from Inkfish and Dowden.

Beginning with the original mix it becomes quite apparent why TD has earned the support of his contemporaries along with the industries best DJs. Anchored by a quirky, wonderfully contoured groove it's a subtle yet soulful harmonic storyboard that immediately sucks you in. As the atmosphere slowly engulfs the framework organic percussion adds effervescent splashes, before rising symphonics dominate the break, propelling the track to a spiralled, spacey conclusion.

The first interpretation of 'To The Stars' is provided by Inkfish who return to the label for their second appearance. The Swedish production act have a storied history in electronic music. Their two decade long career features numerous highlights with appearances on Anjunadeep and Bedrock being the most notable. Of late new music from the duo has been scarce with just two EP's released in 2018. Now presenting their first remix of the year Inkfish put their own inimitable touch on 'To The Stars'. On a bed of billowing bass stabs comes deliberate percussion and ethereal motifs. Growling chord changes provide immense character and emotive charm. It's a unique contrast and one which carries the piece into a break highlighted by orchestral chord stabs, before a flurry of claps sparks a powerful drop.

The second and final interpretation of 'To The Stars' is provided by Dowden who is making his ICONYC debut. Previously known as Onez!e, the Canadian artist has found a comfortable on John 00 Fleming's JOOF Recordings since conceptualizing the new moniker. Now making his much anticipated ICONYC debut the Canadian artist takes 'To The Stars' closer to peak time territory. The pure progressive sensibilities are high with a full boundless groove and choral motifs leading the way. It's atmospheric resonance is compelling, evolving with remarkable fluidity into a musical interlude before locking back on for the road home. A stunning remix from Dowden which rounds out a hugely successful return to ICONYC for TD.