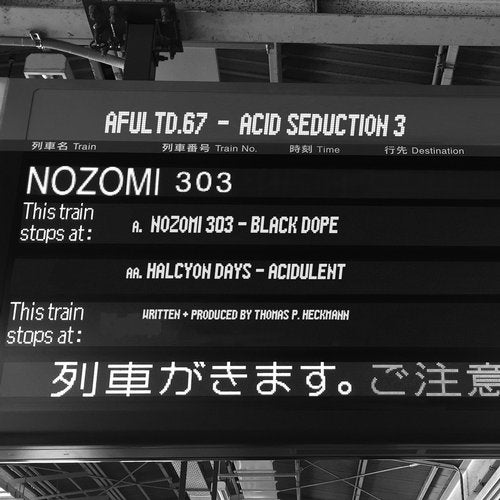 Release Date

2017-04-02

Label

AFU Limited

Catalog

AFULTD67
The next Acid record and the thirs installment of the Acid Seduction series is finished !
This time influenced by Heckmann's Japan tours, friends, fans and the ever on-time high tech train Shinkansen :-) And a very nice coincidence, the train we took to Kyoto one day was called Nozomi 303 !

- bryan black (MOTOR/ Black Asteroid) black dope!'
- Diego Diaz Excellent EP from the from the beginning to the end'
- Bas Mooy Thanks! I love acid too :)'
- Xpansul Top!!!! Really cool tracks. Support!!'
- D.Diggler OMG !! So in love with this stuff !!! still loving all the heckmann-stuff since the early beginning !!!! much respect & full support !!!'
- Israel Toledo Great EP, Acidulent is great!, love it...really nice work :)'
- DID records Top notch ACID!'
- Catz n Dogz love it'
- Regal I love that shit! thx'
- Danny Tenaglia thanks!!!!'
- Dave Tarrida nice!'
- Zakari&Blange Bomb ep from Thomas!Nozomi 303 and Black Dope are our favorites.'
- Pet Duo - Great acid Techno release! all tracks are great! Supported by Resistohr!'
- Matt K very nice tracks!! full support :D'
- luca agnelli great release!!!'
- Macromism cool ep ! love acid tracks'
- Superstrobe It throws me back to the good old times'
- BEC cool tracks!'
- Jaissle Nozomi 303 ist der Wahnsinn! Merci'
- Dr Motte Solid Acid package.'
- dolbyd full support by Dolbyd'
- Alalunadevalencia radioshow Great work, good sounds, thanks!!'
- Dave Simon Nice Acid Tunes!!'
- Toni Rios sounds good. will try it. Thanx.'
- Lorenzo al Dino aka 7th District solid acid tech'
- Al Ferox Acid dope :-)'
- morel xavier awesome,gooovy,,,,i love it ,,,,thank s u thomas!
- Lars Wickinger Nice 303 oldschool shit! Thanks!'
- Lukas Stern nozomi 303 für mich!'

Support by Marcel Dettmann, Slam, Audio Injection, J Digweed, gabriele gilleri,...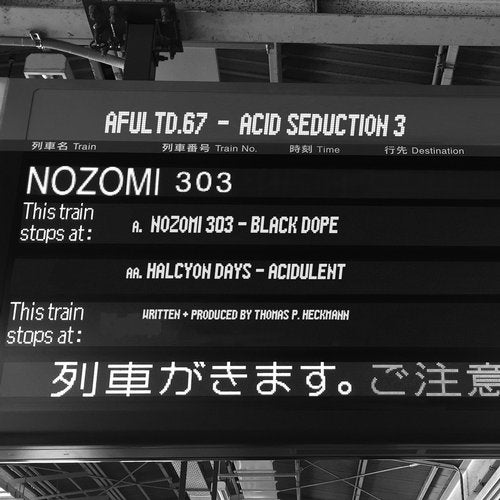 Release
Thomas P. Heckmann - Acid Seduction 3
Release Date

2017-04-02

Label

AFU Limited

Catalog

AFULTD67