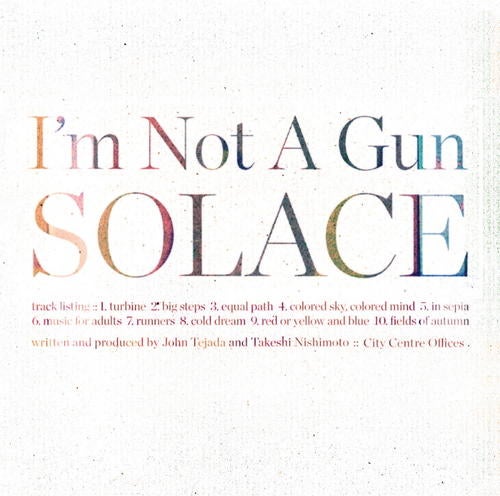 I'm Not A Gun
John Tejada is one of the most prolific DJs and producers in the Techno world. His remixes and DJ-sets are well sought after, his label "Palette" is pumping out 12" after 12" of quality electronic music. Takeshi Nishimoto, classically trained guitarist, has been a long-time member in the jazz/improv scene in Los Angeles. Born in Japan and now living in Berlin, Nishimoto is currently involved in many projects, ranging from soundtracks to gallery-based sound installations. His unique style of guitar playing makes him both a much sought after collaborator and mentor for a broad range of musical projects. "Solace" is the band's 5th album, their 4th for City Centre Offices and – needless to say – their best work to date. With much more refined production skills and incredible songwriting "Solace" embraces both a more upbeat approach and a shimmering love for pop anthems.

Solace: The Q&A
Tejada: One big change is we are separated by a great distance now. Takeshi living in Berlin and me in Los Angeles. So we have to sort of schedule visits so we can get our new music made. I still find working over the internet just doesn't work for me, so it's important for us to both be together when we're working on new material. I think over the years i've relaxed a lot about worrying what other people might think or what people might expect. We've also picked up tips and tricks here and there over the years of how to play a bit better and how to record a bit better.
Nishimoto: Quite frankly, I think to continue working with the same project and releasing more than one record is a miracle itself. I didn't notice until recently that John and myself have known each other for almost 12 years and are still making music together. I've worked with so many different people, different types of music and situations, and none of them have managed to put out more than one release. I feel that we have not really changed our thinking much towards music since our first meeting, but the world has changed, technology has moved on, and the way people live got much faster. Both of us have learned to adapt and change the surface of it, in order to fine tune our musical intelligence.
Tejada: Our music is a weird combination of both. Many pieces start with jamming, but some start with a tiny piece of audio that we build around. I think most times we end up getting something interesting jamming on a part but then forcing ourselves to shape that into something a lot more solid, where before we may have left it a bit more loose. Once we start recording you really notice the flaws in your jams and it's a real pain to basically learn how to play a part you actually just came up with and it was easy, but now you have to do it for real and it's a pain in the ass. But in the end it pays off.
Nishimoto: After all these years, I'm still on the same page. Looking for ideas, searching for order, discovering how much I don't know and repeat the process again. Once I've heard someone say "play a written composition as if the piece was improvised and improvise ideas as if the music was composed by 300 years ago." The quest never ends.
Tejada: I think this time we tried to spend the extra time on it to go back and fix things and try to step up the sound quality and playing of the instruments while still keeping it simple. Every time we connect to record a new record it's our goal to move forward and I think this time we were able to add a new flavor to it all that we didn't have before.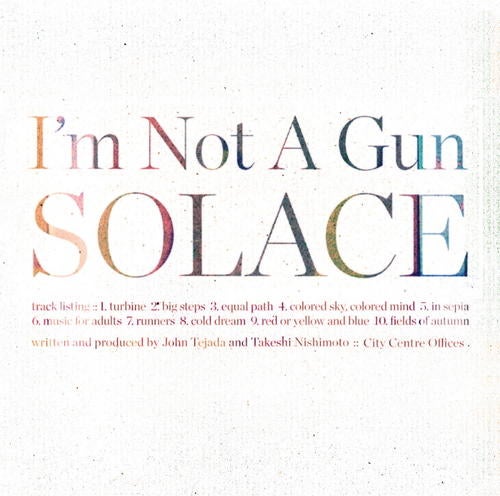 Release
Solace