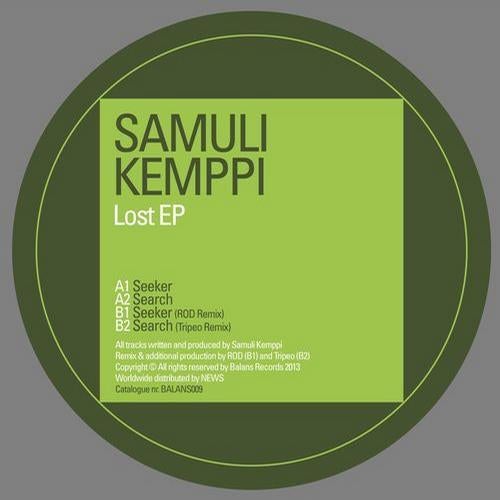 Our musical brother from the north and Finland's finest techno export Samuli Kemppi joins ranks with BALANS. Ever since his classic 'Vangel' release on Ostgut Ton we have been huge fans of Samuli's sound. Needless to say we are very proud to have on board. He delivers two outstanding track with the trademark Samuli sound: scifi, hypnotic spacefunk. Both tunes sound futuristic and nostalgic at the same time, with warmth, textures and industrial cold grooves fighting for the foreground. That's what we love about his music: the ambiguity. A sense of estrangement wich feels so familiar. Listening to his music makes you feel.. well.. Lost! It's the contradictions in his music that fit the BALANS glove all to well. On remix duties we find two Dutch heavy weights hiding behind their puristic techno alter egos. First of is ROD, by some better known as Benny Rodrigues. Under this pseudonyme he has been making waves the last 2 years with releases on Klockworks, Drumcode, CLR a.o. wich have been rinsed by the biggest names on the circuit. He reworked Seeker into a bigroom DJ tool wich have the sole purpose of destroying floors when encountered. His musical companion Darko Esser put on his Tripeo mask for a subtler aproach, like can be expected from his own vinyl only releases. But make no mistake the target of his in 'Search' interpretation is the same. More hypnotic perhaps, but with the same heads on approach towards any dancefloor in mind.

Billy Nasty - "Now this is a GREAT ep from Samuli and Balans. Every single track kicks ass!"

Inigo Kennedy - "Two nice and warm Kemppi cuts. Support from me!"

Len Faki - "It's the ROD mix that makes it for me. Simple but so deep!"

Stephan Bodzin - "ROD & Tripeo mixes are huuuuge!!!! Full support of course!! killa ?"

Alan Fitzpatrick - "Its all about the Samuli's original of Search. LOVE that one!"

Arnaud Le Texier - "Nice originals and remixes on this one. Will definitely be playing something from this at the weekend."

Psycatron - "This is a SUPER release! Especially the ROD remix!!"

Kr!z - "All about the Seeker rmx from ROD & original here for me. Will play!"

Shifted - "Excellent package here. Big fan of everything Samuli does so thats no surprise. and the ROD & Tripeo versions are top notch as well"

Exium (Hector) - "Another good release from Balans. It's the Tripeo that wins for me!"

Marcelus - "I'm really into the Search original and the Seeker remix from Rod! ?"

Pfirter - "Great Balans once again, you are on a role! My picks are Seeker original and Rod remix, both great tracks and very functional. Will keep playing, thanks for sharing!"

A.n.D - "Quality deep trippy techno release! Samuli's Seeker original is our favourite!!"

Justin Berkovi - "Basically ROD does stripped down stuff that I can easily play but still keeping things fresh, original and techno. Love it!"

Paul C - (Resident Advisor) - "An excellent release!"

Ceoltronic Radio - (RTE Pulse Dublin, Ireland) - "Nice EP. Not sure which is my favorite track. Need to give them a listen in the studio. Will play one or two of these on Ceoltronic Radio tonight anyway."

Beats And Beyond - "Balans strikes again with another high quality release!"

Beatburguer - "Techno direct to your brain to move your feet. Tripeo remix warm and groove. Play it in dark places!"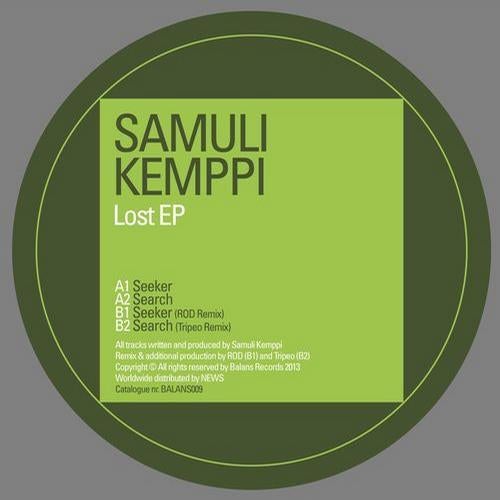 Release
Lost EP