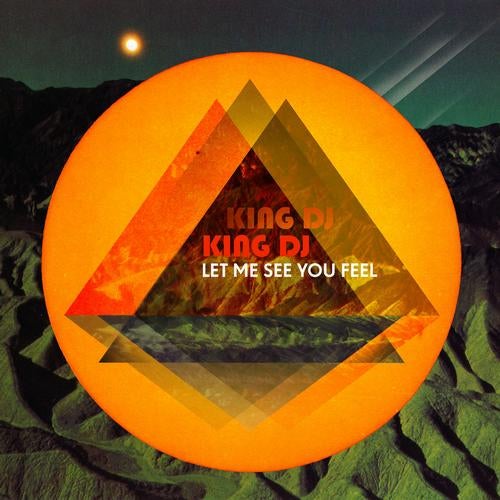 Release Date

2013-03-25

Label

Bear Funk

Catalog

BFKCD029
It's always a special occasion in the Bear Funk HQ when we get to rub shoulders with royalty, but that moment has come round again and the one and only King DJ has stepped down from his throne, graced us with his presence and delivered another prestigious album for his subjects. Coming at you with his very unique blend of disco, funk and house, 'Let Me See You Feel' is album that could only come from a royal mind.

The album opens with its name sake title 'Let Me See You Feel', the track boasts instant flavour and style, it's fast paced melodies crossed with the back seated vocal create that smile factor for what is about to happen and the journey you're about to take.'Clothes & Counters' has 70s funk written all over it. The mixture of brass and guitars contrasting against a square bass line gradually builds into a historical groover. Complex beat melodies roll around in the breakdown and keep your toes tapping.

'The Other Side Of The Galaxy' - Now it may not blast you out into space but it will definitely kick start your journey to the dance floor! The track is a masterful blend of live and electronic intstruments that is screaming to become a live track! The horns emphasize the natural funk of this beast whilst being empowered by the driving bass line. - A seriously great track.

'Musicsheart Singsongs' - This becomes the first break in the high energy, switching up into a slightly more gradual, laid back disco hit. 'Attack of the Killer Monks' - Don't let the Hiphop-esque sample fool you at the beginning, this track is funky disco at its best. Rolling melodies glide their way through your speakers and encompass your mind in the wonderful era of funk. The slightly oriental twist on the wind instruments and the underlying vocal sample is a clever touch.
'Body All Over' - Another interlude moment that has a Nu-Disco meets old Disco feel; repetitious and highly catchy, this little gem is one that will stick with you long after the album has left the CD player. 'Playmate' - There is no pretentiousness looming with this house style beat. The dirty bass line trickles in from the early stages, building into a floor filling anthem with funky Electro after notes. Big tune.

'Dial A Freak' - This track has nothing but power emitting from every angle. Enthralling Latin keys mixed with a masterfully combined side of trance-styled stabs and funky brass create a record that stomps it way through your body. 'La Promenade Des Anglais' - Now he wouldn't be the King without dropping some anthemic downtempo at you for a final blast of funked-out disco. 'La Promenade Des Anglais' gives that winding down sensation needed. The elegant keys and melodies drift effortlessly over the mix but maintain an assertive power via the deep bass line. A great twist for the final encore!

'Dontcha Wanna Do' - Final tracks should always leave an imprint of what you have just experienced and' Dontcha Wanna Do' imprints like a speed-train. The King fires one last blast from the royal cannons with the cyber styled electro banger. Heavy beats and bass lines punch against the almost melancholic keys. The twisted, powerful mix gives you a little more than a royal wave for finishing memory.

Long Live The King.