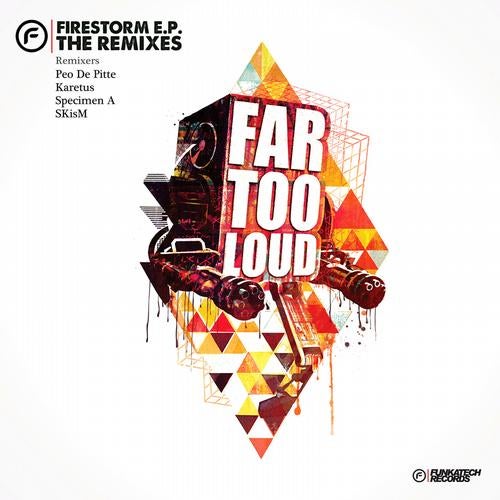 What a wild few months its been for Far Too Loud "Firestorm" lived up to its name in every way since its July release. With heat from Diplo, Sub Focus, Pendulum, Dillon Francis, Bare Noize, Culture Shock and a whole heap more, the EP smacked a number one shaped hole in Beatports overall releases chart!

Could a remix EP possibly beat that type of success? Damn right it can; youve just got to pick the right remixers. Like Funkatech have, right here: each player has delivered class A cargo. Inspired by the tools Far Too Louds creativity has left them, SKiSM, Peo De Pitte, Specimen A and Karetus have stepped up to deliver a package that runs the gamut of everything thats great about bass music right now.

First up, Peo De Pittes rub of Firestorm; a bashy bombardment of whistling peaks and stinking lows. Kicking and screaming like a Fake Blood record after a six month course of steroids. By the time you hit the build-up you can even taste a dash of techno.

Specimen A follows and ignites without delay. Rising sirens wail, giving hint to a murderous drop thats teased by the sudden entrance of shivering synths. One sonic boom later and were swaggering to the most uncompromising stabs and angular grooves like we were born to such a chaotic soundtrack.

The final Firestorm reversion comes from Karetus. Fresh from his Loudness War EP, hes added the scream factor with a ghost train riff that growls and grizzles across the frequencies with suspense and drumstep drama.

Last but never, ever least comes SKiSM with a rub of 600 Years. In true SKiSM style, expect the unexpected; what begins as a pensive, slo-mo drumstep stomp-off swiftly switches to a gut-busting D&B shock out with amens, fat sweaty guitar chugs and all the trimmings.

With no shade or style of bass left uncovered, the whole remix EP was curated with the same spirit the genre-flexing Far Too Loud made the original in. A more than fitting follow up to Funkatechs biggest record of the year, were sure you agree!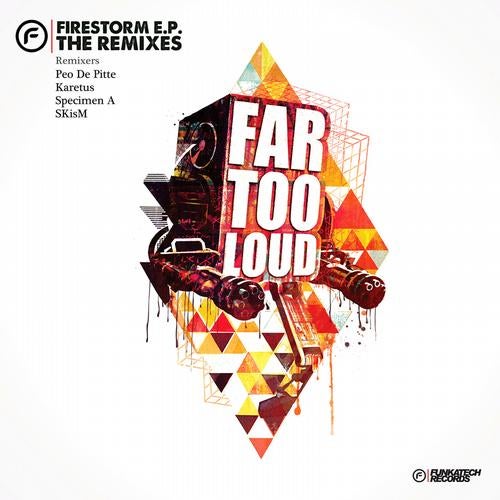 Release
Firestorm EP Remixes