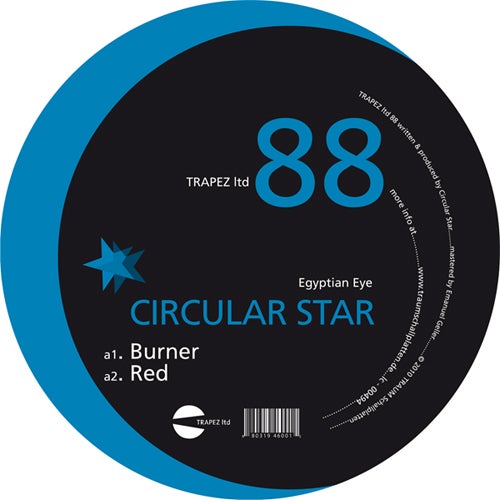 Release Date

2010-04-23

Label

Trapez Ltd

Catalog

TRAPEZLTD88
This Scottish producer puts Trapez ltd again on the techno map. After a couple of more housy releases on Trapez ltd this release is a tougher one.
Circular Star works techno a bit in a post Detroit fashion... the sounds smells of industrial sites, burned rubber and has that certain sexy machine rhythm to it which we always felt was the Jeff Mills factor. They have little glamour about them, they are true and a direct force.

"Burner" the A1 track is a stripped down give and go beat monster, just very aware of what it is doing, upright is walks and it knows it has style. This is a rocker and a track that can be virtually mixed with.
B2 "Red" carries this feeling a step further has a melody going that also refers to the sound we have heard in industrial places and certainly in the Tresor in Berlin.
This is a true Berlin basement rocker we believe and cool DJ tool.

"Egyptian Eye" is a track that never touches the ground, all elements seem to be in mid air and are part of a cool loops structure that makes this track so intense.

"Space Free" is the deepest track of the record, this is dubbed out techno with delays that create a industrial–electronic feeling similar to some of Basic Channel's greatest tracks.
Be sure to listen also to this track since it is a wonderful one. Relying on a strong drive, the track works with machine like movements and ghostly vocals put through delays

The digital Remix comes from French producer Alex Kid who used to record for F-Comm, now recording for for Cadenza and Rekids. His remix is a stripped down beat remix of Egyptian Eye.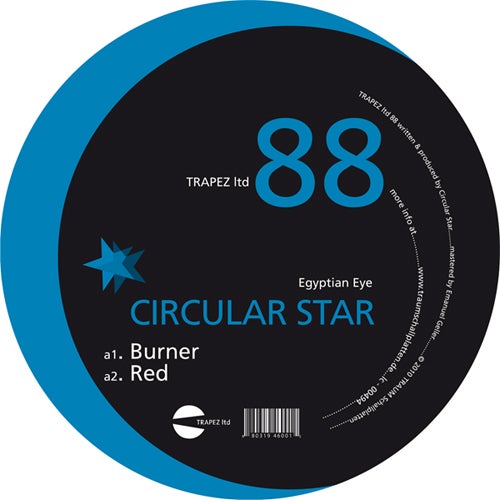 Release
Egyptian Eye
Release Date

2010-04-23

Label

Trapez Ltd

Catalog

TRAPEZLTD88