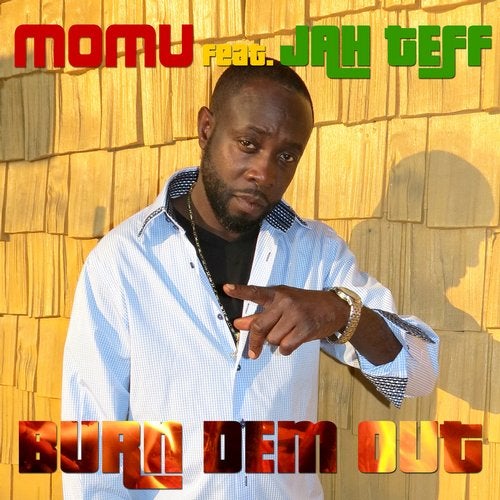 ABOUT "BURN DEM OUT"
"Burn Dem Out" is an electric collaboration between West Coast broken beat production force Momu, and Jamaican born reggae and dance hall artist Jah Teff. The result is a breakbeat reggae fusion that forges fertile new territory for both artists. Jah Teff's masterful hard reggae rhymes, and Momu's militant drum n bass and jungle percussion and electronic production wizardry are all in evidence on this intensely flavored two track release.

ABOUT MOMU
Momu is J.D. Moyer (the MO) and Mark Musselman (the MU). Championed from the start by the world's top DJ's such as Nick Warren and Sasha, Momu immediately made a name for themselves with ground-breaking breakbeat singles that helped create the "progressive breaks" genre.

In 2006 Momu released their debut self-titled album to stunning critical acclaim. M8 Magazine said "you'll struggle to find anything as perfectly formed as this collection from breakbeat visionaries Momu." Spill Magazine opined "An absolutely cracking album from start to finish, there's not even a whiff of disappointment in this longplayer." 2008 brought the release of Momu's follow-up album "Momentum." Unfettered by anything except the breakbeat form itself, "Momentum" broke the "progressive breaks" mold, but Momu's signature sonic weirdness, insanely high production values, and larger than life hooks are still front and center.

Momu's 2012 album "Rising" (Looq Records) opened at #3 on Beatport's Chill-Out releases chart. "Rising" fused a new signature style for Momu combining 60's jazz, 70's funk, 80's hip-hop and dub, 90's synth pop, 00's glitch, and new sounds stolen from the future.

Momu's new album "The Mission" is an aural criticism of the radical changes taking place in San Francisco. With breakbeats, analog synths, and digital sculpting, Momu creates sounds both beautiful and dissonant, raising a playful middle finger to Silicon Valley while also celebrating the city's history and idiosyncrasies.

ABOUT JAH TEFF
Gary Johnson, born in Montego Bay, Jamaica; from an early age aka Jah Teff aspired to great musical heights. His debut performance came in 1987 when he entered the Great River Talent Show and won for best song "Tooth Ache." The following year, 1988 he won the Jamaica Cultural Development Commission Talent Show where he was awarded first prize by a distinguished panel of judges, including the honorable Portia Simpson, former Prime Minister of Jamaica. This represented a major endorsement for the young artist with big dreams.

Jah Teff later moved to Kingston, Jamaica, where aspiring artists pursue their singing careers with a chance to record with renowned producers. It was there he met Rodney Basil Price, AKA Bounty Killer and recorded his first single "Exercise" published on the Scare Dem label. It became an instant hit in dancehalls across Jamaica, the U.K. and the United States.

Instantaneously, Jah Teff inducted into the "major league of dance hall". Following the success of "Exercise" Jah Teff recorded another single "Got To Get Away" featuring Platinum on the Slam label. In 1993, his big break came when he performed at Reggae Sumfest, the marquee reggae event of the summer held annually in Montego Bay, Jamaica.

Captured by his pulsating performance, Barbara Barabino, founder of Ragga Muffins Productions, invited Jah Teff to perform at the annual Ragga Muffin Bob Marley Day Festival in Long Beach, California alongside acts like: Burning Spear, Bounty Killer, Beenie Man, Shaggy, Anthony B, etc.

"Got To Get Away" became a success in the U.S. bringing him radio appearances and performances in New York, Miami, San Francisco, Detroit and San Diego and has since worked with producers like Don One, Jah Life, Ed Robinson and Future Line Records.

In 2006, Kyle McDonald, co-bassist and vocalist of the successful acoustic reggae band, Slightly Stoopid produced his song "See It No Other Way" featuring dancehall music legend Barrington Levy. The song became an instant sensation and can be found on Slightly Stoopid's album "Closer To The Sun."

Today, Jah Teff can be found writing and recording music for his upcoming EP titled "Pan A Knock" on his "Up Deh Music Productions" lable which includes collaborations with Ed Robinson, Sweet Tea, Baby Cris.

Jah Teff is taking the dancehall scene by storm and his fans in the U.S, Europe, Jamaica and Japan can agree Jah Teff is the next "rebelution" in reggae music.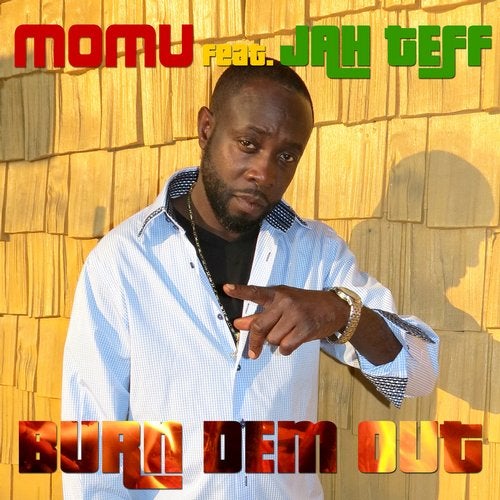 Release
Burn Dem Out