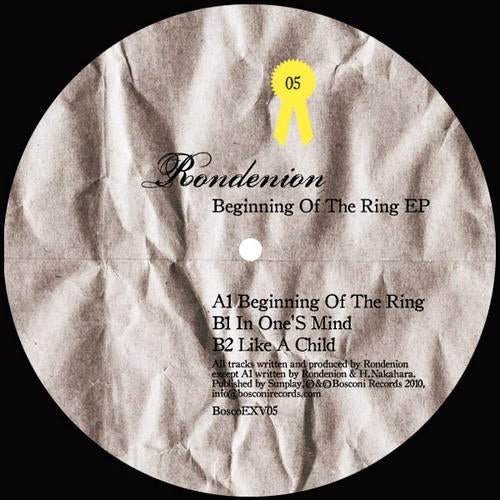 Vintage and Classy, Rondenion joins the Extra Virgin family for its 5th release with a top level 3
tracker of fresh club music goodness.
This talented and eclectic japanese artist has dropped out already some marvellous productions on
Still Music and Rush Hour, where he seemed to be very influenced by some of the greatest stuff
made in Detroit by artists like Theo Parrish and Moodymann: jammin on with synthesizers,
MPC, drum machines and manipulating disco soul jazz samples, he plays the sounds directly while hes composing in a proper oldschool live way. Keeping the vibe simple, rounded, groovy, he has created amazing compositions for our ears and when you will start listening to this
ep youll get along with us.
Trying to be always contemporary, looking at the past but still forwardthinking, Bosconi Extra Virgin presents The Beginning of the Ring:

on the main side we can listen to the track that gives the title to the EP, and Rondenion here slams out your face
with a monstrous, epic, symphonic-soul-drenched, slowmotion masterpiece that sounds definitely like a modern balearic track enriched by contemporary beat and new abstract hip hop elements, 10 minutes of heavenly, trippy and pure beatdown pleasure, reminding us something in between Baia degli Angeli and Flying Lotus, or even better, just Rondenion.
B side instead is the more dancefloor oriented part of the vinyl, which starts with the joyful uptempo house vibe of In ones mind where a gospel voice on loop rolls over a heavily atmospheric filtered piano sample that comes and goes, while on the second cut we find the freestyle cut up disco a la Soundstream of Like a child, a pure funk banger tool that surely will please your needs of rocking the floor.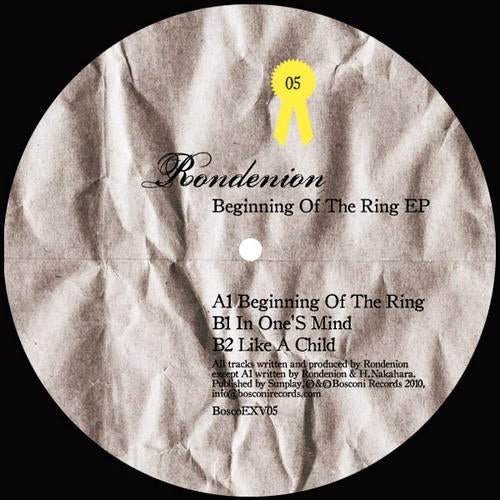 Release
Beginning Of The Ring EP