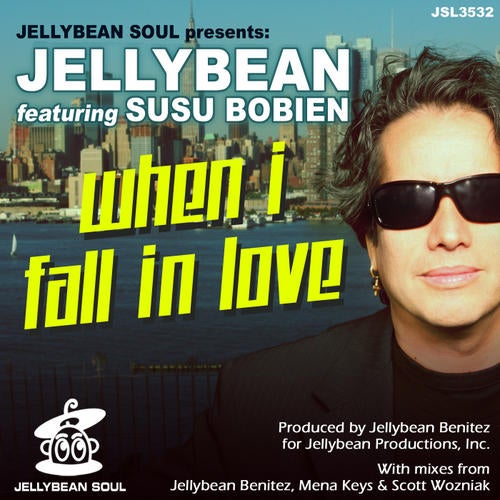 Already burning up dance floors and a growing hit at Jellybeans famous Feel The Spirit party in NYC!
The mixes from Jellybean and Mena Keys are energetic and uplifting with a Gospel House vibe supported by the powerhouse vocals of the dynamic House diva Susu Bobien. The Scott Wozniak Remix offers a contrasting flavor with a driving bass line and a hard as nails four-on-the-floor kick!

FEEDBACK:
Grant Nelson (UK) Traxsource #1 or Ill eat my hat Both mixes are killing it!

Marlon D. (Columbia) Slamming release by my boy Jellybean always coming correct.

Tony Humphries (USA) - Wicked interpretation of this beautiful song! Both mixes rock!

Mr.V (USA) Diggin' Scott's Mix...dope vibes

DJ Spinna (USA) Both mixes are nice but especially feelin' Scott's mix. I'll be banging this one.

Yass (France) Great talents together, nice joyful vibe...perfect for my sets... Scotty mix is dope, big room...

Luis Radio (Spain) Very Hot!!! Full support on this one

Ralf GUM (Germany) Sweet soulful song. Will play it.

Jose Carretas (UK) The combination of artists/producers on this label is excellent. keep it up!

Romain Gowe (USA) Slaming mix I 1st heard this song at the Jellybean party in Miami and it rocked, will be playing it on my cyberjamz radio mix

DJ Pope (USA) Love the JB and Mena Keys mix

Owen DeepCitySoul (USA) Both mixes are great. The Jellybean & Mena Keys Mix will be getting some serious plays from us in the coming weeks.

DJ Dino (Greece) Nice

Stan Zeff (USA) Great track- Love it!

Parrish Wintersmith (USA) I LOVE the backgrounds, very very sweet & two different mixes that both do the business! this goes into my wallet immediately!

Fruto Mejia (Colombia) I like the song.it's a great jackin vocal house with a fantastic keyboards of Mena and glamorus voice of Suse Bobien. Come and fall in love. I love the original Jelly Mix.

Franco De Mulero (Ibiza) Mr Jellybean MIX IS THE ONE FOR ME!!! HOT HOT

Neil Pierce (UK) Thanks guys, as always jellybean brings the heat.

Tyrone Solomon (Canada) Dope!!!

Mark Stone (Switzerland) YES!!! This one is rocking the Floors!! Brilliant production! UDM Full Support! Radio & Club Spin!

CJ Mackintosh (UK) Loving Scotts Mix!

Master Kev (USA) Solid package from Jellybean , George Mena, Scott Wozniak and Susu... great choices here... JB/Mena mixes for the more deep heads and the Woz remix for the peak crowd... full support

Lil Ray (USA) Loving both mixes here and always love SuSu voice.

Hallex.M (France) Nice one Jellybean!! I like the Jellybean mix

Joey Silvero (UK) Powerful vocal and crips beats, something for the summer months!! Love both mixes, ideal balance for play any time!

Henri Kohn (Germany) Wooo Wooo. Lovely.

Louie Lou Gorbea (USA) Jellybean and Mena Keys do it again....track has a great trip hop feel to it with great keys and amazing vocals...Susu Rules!!!

Cyberjamz (USA) - Here we go! Another masterpiece by Jellybean Soul,full support on this equiste relase.

Ruben Toro (USA) Great mixes just in time for the summer of 2010 a sure house classic

Alex Dimitri (Italy) Su Su always on point as the Jellybean production. Full support.


CREDITS:
Produced by Jellybean Benitez for Jellybean Productions, Inc.
Written by Kevin Hedge & Joshua Alexander Milan
Published by Haripa Music/Careers-BMG Music Publishing (BMI)
Lead Vocal: Susu Bobien
Background Vocals: Dawn Tallman
Drums & Percussion: Jellybean
Keyboards: Mena Keys
Recording & Mix Engineer: George Mena
Recorded and Mixed at Lovehouse Studios, NJ

Tracks 5-6 Remixed by Scott Wozniak @ Woz's Lab, Brooklyn, NY
Keyboards by Scott Wozniak

Mastered by Emanuel Geller @ Salz Mastering Cologne, Germany

Photo by Louis Pinckney

Executive Producer: Jellybean Benitez

Visit us at http://www.jellybeansoul.com

Facebook:
http://www.facebook.com/pages/New-York-NY/Jellybean-Soul/8133353042
http://www.facebook.com/DJJellybeanBenitez

Twitter:
http://twitter.com/jellybean_soul
http://twitter.com/heyjellybean

MySpace:
http://www.myspace.com/jellybeanbenitez
http://www.myspace.com/jellybeansoul

For inquiries, please send email to:
info@jellybeanmusicgroup.com

(p) & © 2010 Fuego Media, L.L.C.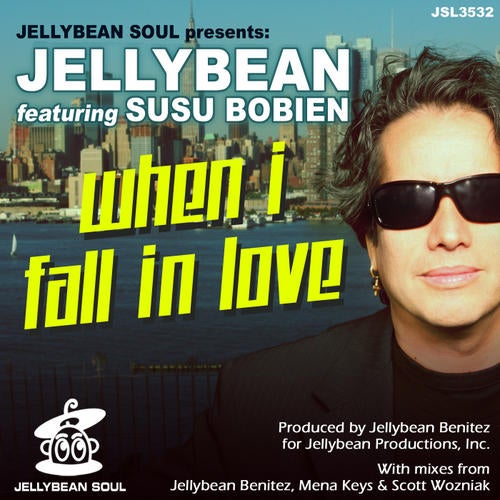 Release
When I Fall In Love