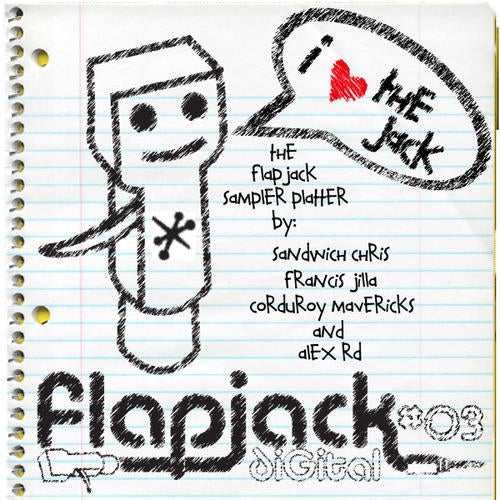 Release Date

2009-07-27

Label

Flapjack

Catalog

FLAP002
The 3rd edition of Flapjack Digital is upon us!!! This release is a nice sampler platter of four different delicious delights from some of house music's most promising up 'n' coming producers.
Sandwich Chris of the Netherlands hits us with the silky smooth soul grabbin' beater "Music Speaks To All", which has one of the most catchy vocals and sax licks that you will be humming for weeks after hearing it.
Next up, Francis Jilla known for his smashing records on the famed Guess Who label, returns from a long hiatus to bring us "Electric Eel". This tune has that anthemy jam squat that only the Jilla ferilla can bring. "Electric Eel" is a peak time floor smasher that bends you till you break.
To round thing out we have the Corduroy Mavericks hailing from Kentucky coming at you with a real summertime ice cream cone of a jam. "Break A Dawn" has got that good time feel with its light hearted groove with fun feeling vocals. This tune is destined to be a summertime favorite.
Last but not least is Alex RD from Germany bringing us back to that snappin UK Garage sound. "Elites" is a fantastically produced tune with that signature 4x4 UK Garage sound chock full of key stabs all around the sound sphere and pounding sub bass underneath it. Simply a great track to round out this versatile sampler release. There is something for everyone is this release, so don't be shy and come and grab yourself a stack o' fun!!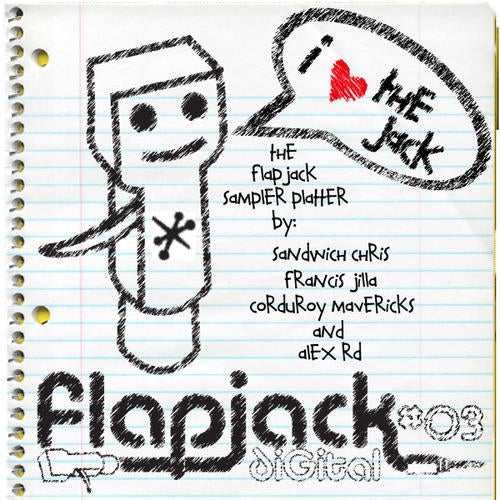 Release
The Flapjack Sample Platter
Release Date

2009-07-27

Label

Flapjack

Catalog

FLAP002