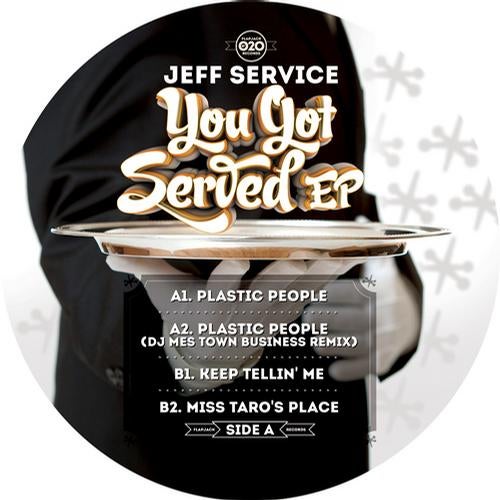 Release Date

2012-10-02

Label

Flapjack

Catalog

FLAP020
Oh the things we do with plastic here at Flapjack Records. This next piece of Flapjack plastic has so joyously been arranged by our good friend from the Southwest, Jeff Service. First debuting his flavorful talents back on his first EP, The Trapper Keeper EP, Mr. Service more than earned himself a 20%% tip. Now he is back on during a primo dining shift to showcase his new maneuvers with his You Got Served EP.

Some people wash their hands before a shift, but Jeff Service definitely doesnt. He likes it dirty and I dont think he gives a shit. This is showcased on his upfront bass thick tray track Plastic People. The things he does with plastic on this track just shouldnt be done unless you are strong stomached and made to get down.

While Jeff is off on break, our friend and comrade DJ Mes steps in his place to take care of some town business. The Plastic People (DJ Mes Town Business Mix) relishes in its elegant finesse at handling any and all social situations. When you need to take care of business on the floor, DJ Mes is who you turn to for some no fuss get on the funk bus boom. If Jeff Service doesnt get back from break, Mes is going to walk off with all his $ for sure.

Keep Tellin Me is a perfect display of what makes Jeff Service such a professional wait staff extaordinare. This cut can handle even the most hostile patron with ease. Lay this piece on the table and watch mouths drop and wallets unfold with the phat bank roll tips dropping on the accent dish. You wont hear the jingle of change, but the thud of heavy wads of paper bills. The money shot.

To close out the cash register, Jeff Service leaves us at Miss Taros Place. This cut has a perfect way of tying up any loose ends with a patron or an open ended mix. Funk n flutter, and a massively huge breakdown works late and never takes a break. This will leave the masses more than satisfied and returning again and again to show patronage and support. It is a good thing that we have Jeff Service working for us in times like these. The amazing service keeps the doors open and the people coming back to be served. The You Got Served EP pretty much says it like it is.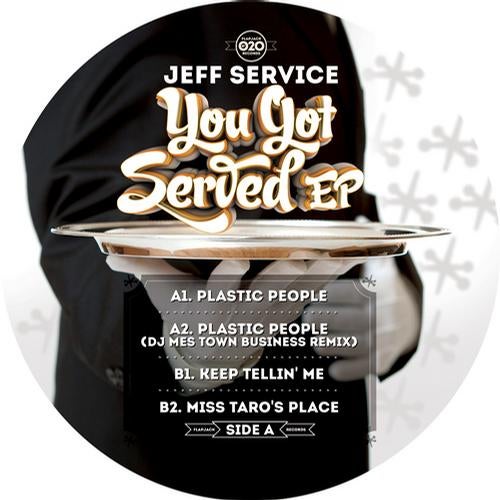 Release
You Got Served EP
Release Date

2012-10-02

Label

Flapjack

Catalog

FLAP020