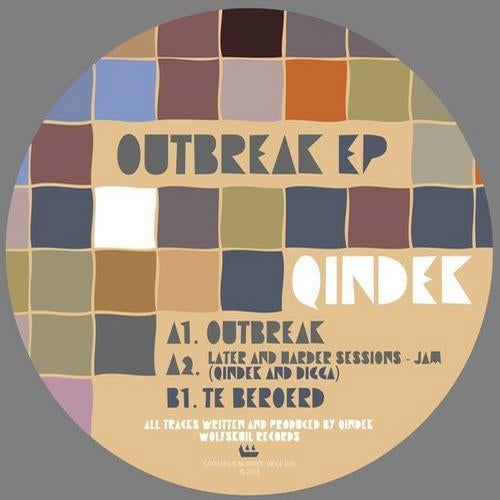 When Wolfskuil recording artist Thomas Lauren came to us with his new techno project Qindek, we were instantly intrigued. Qindek sees Thomas moving away from his melodic background into uncharted abstract territories, without losing the warmth and depth we've come to know him for. Three tracks (two originals and one live jam with Digga) are on this EP, each with it's own distinct sound signature. The titletrack is a psychedelic little monster wich received support from Peter van Hoesen and Sandrien in the demostage. It's dark, brooding atmosphere is matched only by the suspense and irie groove, withour ever reaching full climax. It's counterpart, the bigroom techno anthem 'Te Beroerd', is a whole different matter. Extremely powerfull stuff and there is absolutely no way around it's rave antics and monstrous kickdrum. A floorfiller if we've ever heard one. Last but definitely not least is the live jam Qindek did with his studio companion Digga. Harder & Faster is a great hypnotic session of the guys with a catchy, almost sweet sounding theme draped in lush sounddesign and pounding grooves. All in all this is a dream debut of Thomas' new alter ego.

Exium - (Hector) - "Later and Harder Sessions is definitely the fav track here. Love it for my early sets."

Kr!z - "The 'Te Beroerd' track is a lot of fun. Will probably go down really well, will give it a spin."

Boddika - "Yeah this is sounding pretty good to me. I like this release. Gonna test."

Vince Watson - "Such a great release from Qindek. Especially Later & Harder Sessions. Support from me!"

Stephan Bodzin - "Ach du dickes ei ist das fett (English: oh my god this is ultraphat)....!!!!!"

Luke Slater - "Later & Harder Session is nice. Thanks for this I'll play this later in the set."

Billy Nasty - "I'm loving the Later & Harder Sessions on this package! Will play!"

Diversions - (CHRY Toronto, Canada) - "Feeling the swirling, hypnotically dub atmosphere of the title cut for me!"

Angel Molina - "Nice ep. Rawest sound than past releases from Mr. Lauren, 'Outbreak' is my pick on here."

Norm Talley - "Outbreak original is standing out for me here. Sounds nice!!"

Kristian (Ame) - "Now this is a great release from Qindek. Outbreak my pick."

Mr Jones (Unsubscribe) - "I Think the track "Te Beroerd" is not Te Beroerd at all ? The strongest one for me. Like the build up."

Samuel L Session - "Nice release - a bit different - harder to play maybe but still doing it for me."

Guy Andrews - "I am really feeling this release!!! Especially Later & Harder Sessions."

Rolando - "'Outbreak' is Nice but it's all about 'Te Beroerd' for me. Top Stuff here!!!!"

DVS1 - "Its gotta be Later & Harder Sessions that wins! Really nice record!"

Par Grindvik - "Good stuff! Later & Harder.. is just blinding! Great release over all! Thanks guys!"

Tommy Four Seven - "These are awesome tracks from Qindek. Every one a sure player for me!"

Mauro Picotto - "Very nice! A beautiful and hypnotic journey..."

Daniel Avery - "I'm really liking everything on this ep. Good job Qindek!"

Ben Sims - "This is great stuff! A real super solid three tracker. Later & Harder Sessions my fav."

Nick Warren - "This is excellent work from Qindek. Loving Outbreak!"

Laurent Garnier - "OH FUCK YESSSSSSS.... Great release!"

Norman Nodge - "I only have lousy computer speakers here, but "Outbreak" blows me away! Great!"

Lucy - "Gonna have to try these out but Te Beroerd sounds like it could be a cool one."

Shadow Dancer - "We're feeling Te Beroerd on this ep, heavy and hypnotic stuff!"

Mark Broom - "Really like Te Boroerd on this ep. Perfect stuff for my sets right now."

Nuno Dos Santos - "Go Thomas! Outbreak is right up my street! Will support this in the clubs for sure!"

Alan Fitzpatrick - "Each of the tracks on here are sounding good to me. Gonna drop and test!"

Ian O'Donovan - "Outbreak is sounding very interesting to me. Gonna give it a spin!"

Golden River Radio - (East Village Radio, NYC, USA) - "Te Boroerd stands put for us here."

Laurent N - (Nice Radio, France) - "More nice and intelligent techno from Wolfskuil. 3 good tracks."

Christillization Radio, Serbia - "Clubs with no lights, that's what Qindek need! Hypnotic beats and dirty sounds, very enchanting release."

Raveline Magazine, Germany - "Considering for review."

Scan Mode - (DJ Magazine, Spain) - "Wowwww! WHAT AN AMAZING TRACKS! I like a lot, fantastic ep!"

Paul C - (Ibiza Voice) - "Great production with lovely layers!"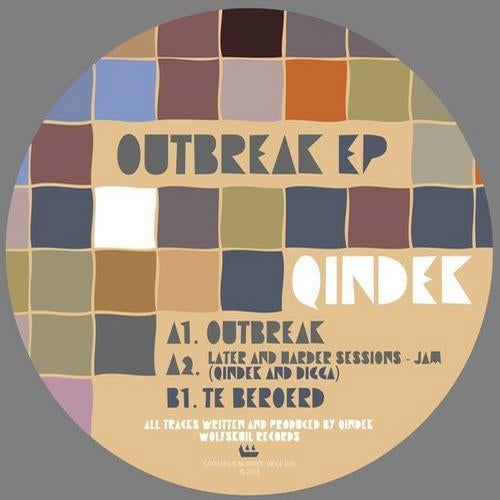 Release
Outbreak EP