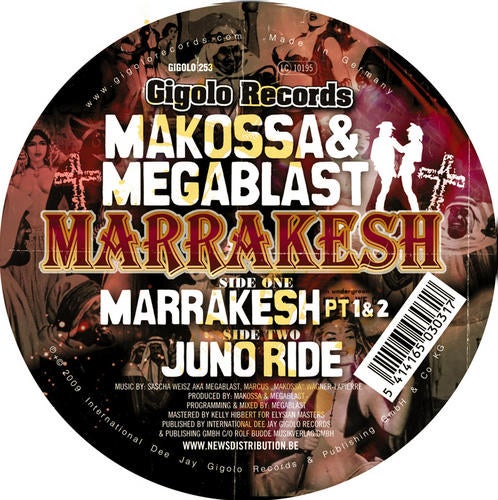 Release Date

2009-08-26

Catalog

GIGOLO253BEA
On this EP we have two cuts, one is called Marrakesh Pt. 1 & Pt. 2 the other Juno Ride, with a digital bonus track called UFO! Each track has an unmistakable flavour of its own, from the exotic melody and cheeky line of Marrakesh, to the arrped-out melancholy of Juno Ride and finally to the synths of UFO! It shows the perfect juxtaposition between intelligence and self-irony, judgement and experimentation, self-awareness and downright discovery

Makossa, aka. Marcus Wagner-Lapierre, is Viennese DJ culture Royalty, with a lineage goes back to the mid 1980's. As the head of music for Austria's illustrious and fiercely independent nationwide station FM4 he has proven his good taste and judgment for over 20 years, with his much celebrated Saturday night show 'Swound Sound System' further compounding this fact. Megablast, aka Sascha Weisz, has a slightly more modest history, cutting his teeth with Hip Hop and Reggae and then progressing to the Tech scene where he debuted his 'Luv Lite Massive' project with the critically acclaimed 'Creation' album on Stereo Deluxe. As Makossa and Megablast the influences and experience all come together, with their G-Stone debut release 'Kunuaka' , a champion display of such a sentiment. But with their latest EP we find our protagonists in DJ Hells world, the Mega-Church of Gigolo, which is to say ' we find them on the dance floor!

"it was our intention to name it MARRAKESH…sounds more unique ". After two years of intensive touring, the artists known as Makossa and Megablast have taken retreat at their Luv Lite Studio in Vienna. Having taken-in the environs of Brazil, Mexico, China, Japan, Bali, and the United States the new musical direction is Electronic meets World meets Dance; with the styles extending over Afro/Ethno, House, Dub, Disco, Broken Beats, and Hip Hop all complete with that celebrated and much welcome analog feel. Welcome to Marrakesh.
Starting from its 1996 foundation, Gigolo has provided. The labels' release history, which boasts almost 250 releases to date, has bought the likes of Miss Kittin & The Hacker, Jeff Mills, Dave Clarke, Fischerspooner, Tiga, The Psychonauts, The Presets, Justice and many more to the modern ear.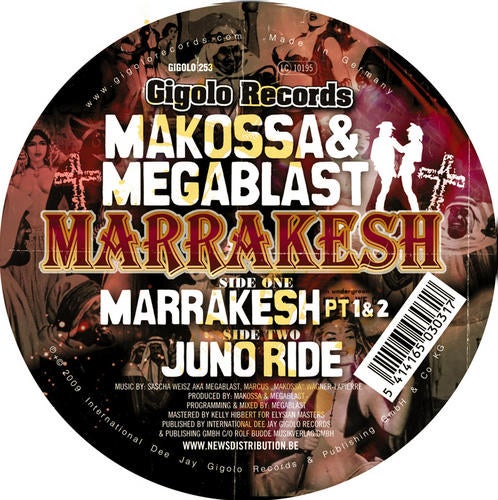 Release
Marrakesh
Release Date

2009-08-26

Catalog

GIGOLO253BEA