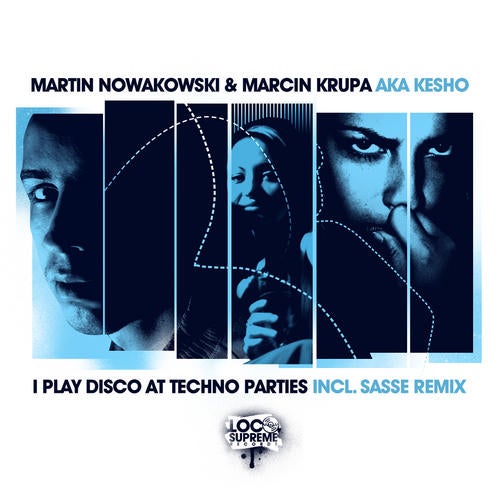 Loco Records Supreme presents two Polish artists Martin Nowakowski and Marcin Krupa (aka Kesho), who delivered their brand-new track called "I Play Disco At Techno Parties".

Martin Nowakowski was born in Gothenburg, Sweden where he spent most of his childhood. His biggest passion has always been music and that is why he decided one day that he could join other music producers and focus on creating electronic music. Martin tends to blend the classic foundations of techno and deep house with everything one could possibly imagine. His productions were released by Perplex, Empedo and Pets.

Marcin Krupa (aka Kesho) is a young DJ and producer from Warsaw in Poland who has been making music since 2005. First, as Marlon Krupa, he was producing techno music and his tracks were played and charted by the likes of SIS, Luca Bacchetti, Gel Abril, Dave Robertson, Valentino Kanzyani, Jens Bond, Catz N Dogz, Noir, Florian Meindl, M.In, Oliver Moldan, Alex Kenji, D.Ramirez, Mark Knight or Aki Bergen. Now, Marcin concentrates on deep / slo mo house being at the same time the owner of Ponton Music.

The remix on the single comes from the head of Berlin label Moodmusic - Sasse. His real name is Klas Lindblad and was born in Finland. Sasse has been djing since 1990, starting from pop music and eventually finding electronic music in the early 1990s. He was running one of the first house clubs in Turku, Finland from 1992 to 1996 and was a regular guest at the major parties in the Finnish electronic scene. At that time, he also began working on productions and soon his first release came out on Sähkö/Puu as Freestyle Man. His early work is considered a breakthrough in the Scandinavian house sound and the original 12-inches are still very much wanted. In 1996, he started Moodmusic with the first release, "Sasse Presents...", a 4-track EP with the influences from NYC and Detroit house. Instantly creating havoc on European dance floors, the following releases put Moodmusic on the map of recognized house labels with the distinctive sound and top-notch A&R abilities of Sasse. In 1999, Sasse leaves Finland for Frankfurt am Main to start a residency at the famous Robert Johnson club. He was running his highly successful "Finnish First" nights at Robert Johnson from 2000 - 2004. The early releases from Henrik Schwarz on Moodmusic culminate in 2003 together with the origin of Sunday Music, a musical platform for Sasse and Henrik's productions. In 2005, Sasse builds his beloved BlackHead Studios in Berlin with his companions Ewan Pearson and Filippo "Naughty" Moscatello and starts working on his first artist album. The album "Made Within The Upper Stair Of Heaven" is released on Moodmusic in 2006 to critical acclaim and the singles "Soul Sounds", "Loosing Touch" (featuring the distinctive vocals of Kiki) and "Up To You make waves on the dance floors around the globe. In 2007, the special collaboration called "Its All True" between Tracey Thorn and the production team composed of Sasse, Darshan Jesrani and Ewan Pearson was featured on Tracey's last album "Out Of The Woods". That single featured remixes from Martin Buttrich, Kris Menace and Escort and was one of the summer tunes in 2007. His 2008 album "Toinen" was a landmark for Sasse, showing again his musical abilities and creating a timeless piece of music. The album spawned 3 singles which gained praise from the DJ community around the world. Over the last 7 years, the success of his productions and his driving DJ-style have brought him all over the world to represent the sound of Moodmusic. And rightly so, the label going from strength to strength, riding high in the DJ charts as well as getting support from the majority of the A-Class disc jockeys around. In 2010, he released the 2nd Freestyle Man album "The Bottom Line" on Hairy Claw Records (UK) to critical acclaim and much love from the dj community. In 2011, Sasse is celebrating the fifteenth anniversary of Moodmusic, and while on tour, he's playing alongside such label protégées as Penner+Muder, Dave DK, Phonogenic and James Flavour.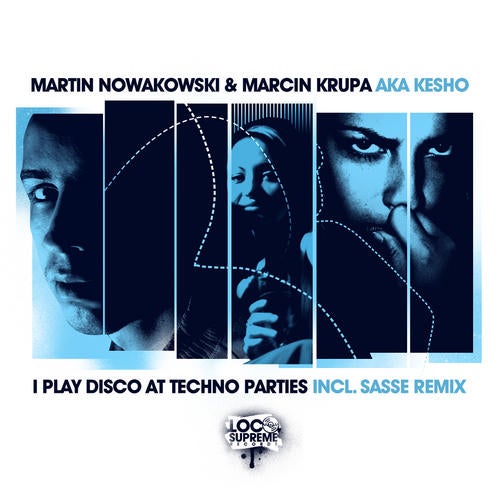 Release
I Play Disco At Techno Parties