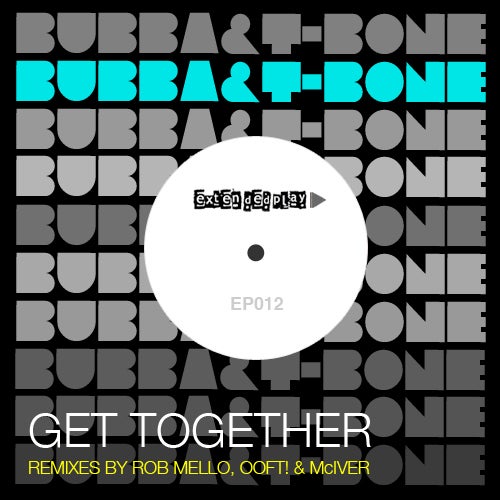 Following hot on the heels of a vintage cut from the T-Bone archive, we see the acclaimed Belfast DJ & Producer join forces with man-of-the-moment Bubba.

Bubba & T-Bone isn't a child's steak house, as you may expect, but instead a duo of music lovers whose taste and influences are intertwined and perfectly in tune.

'Get Together' is classic House in every sense of the word, a simple, hook powered super jam, reminiscent of a KC Flightt number from way back when, but executed with precision 21st century sonics.

Exactly 50% of the Jet Project John McIver couldn't resist taking on the mighty 'Get Together' either, and predictably fires off a rocket powered romp, of royally rude proportions.

Elsewhere we can jump neck deep into the sumptuous modern Discoid thump of 'Bumpin' For Love'. A joyously wide bottomed workout, punctuated with thickly sliced vocoder and typically beefy beatwork.

As always, we're wheeling in the big guns on the remix front, UK House music legend Rob Mello gets to grips with 'Bumpin' and constructs a classic No Ears moment, a frisky but totally on point groove, which registers a high 9 on the Bootsy Collins Funk-o-meter...we checked, we've got one.

Finally one of our favourite groove merchants Ali Ooft sets up shop & gives 'Get Together' not one, but two superb OOFT! treatments, the first a taught, acid laced modern House workout, the second a beautifully pared down and throbbing dub - deadly !

Another EP Sureshot!