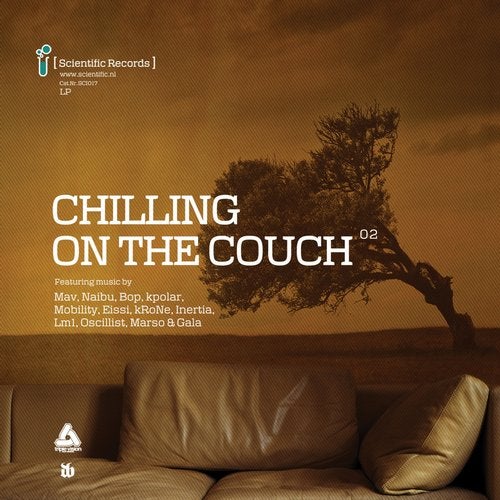 Release Date

2015-01-26

Label

Scientific

Catalog

SCI017
2015 promises to be a big year for Mav's Utrecht based Dutch label Scientific Records with many interesting forthcoming releases in the pipeline, mainly in LP format (10-12 tracks each). First up we have the "Chilling on the Couch .02" LP, the successor to the first highly credited edition of this chillout-music-at-170-bpm series that was released a couple of months ago in 2014.

On this second part of the series that focuses entirely on the listening-at-home experience we find 12 tracks by various artists from all over the world. Starting off with a brilliant, constantly evolving remix by Russian producer Bop of 4 different tunes by Mav blended together into one, labeled "A Journey through Skylines (but Sweet Dreams) (Microspacefunk Bop remix)". Truly a very unique piece of work.

We then move into a highly chilled out atmospheric vocal-based track by Amsterdam's Mobility, one of the biggest talents in drum&bass and chillout music at the moment and co-hosts of Mav's "Scientific Radio" show on Bassdrive.com. Vocals on this track called "Sunrays through Rain" are sung by Mobility themselves, which makes the track even more special.

3rd up is yet another masterpiece by Parisian producer Naibu who makes his third appearance on the Scientific label with his track "Bird's Eye View". This track is the perfect combination between electronic and acoustic music, featuring a laidback drum&bass beat, spacy electronic strings, combined with soothing self-recorded acoustic guitar, a punchy acoustic sounding bassline and Piano chords that have a certain "Air" and "Massive Attack" feel to them.

We then move into a track by Californian producer Oscillist, an artist that always does 'something else' and definitely has his own unique sound. His track "Mono" is another great example of an excellent combination between electronic and acoustic music, featuring acoustic guitar and vocals combined with swift moving drums and electronic sounds.

Next up we have the return of a drum&bass legend that is known for his groundbreaking releases in the late 90ies and early 00ies on labels such as Certificate 18 and Subtitles, as well as his collaborations with Subtitles label head Teebee. We are talking about Polar, also known as K. He returns to the scene on Scientific under his new name "kpolar", delivering a heavily hiphop-influenced, head-bopping track called "Flutter".

Offworld Recordings label head LM1 is the next artist on the tracklist with a highly experimental, energetic, yet spaced out remix of Mav's "Time & Space" that was originally released on ASC's label Covert Operations in 2007. The strings that come in around 3 minutes get us every time!

Track 7 on Chilling on the Couch .02 is a remix of Scientific label head Mav's popular tune "Skylines", the opening track of his "Sounds of the Deep" album that was released on Scientific in the summer of 2014. It had already been remixed before by Derrick & Tonika, Krone and Bungle. This time it's Madrid based trio Inertia on the buttons, delivering a halfstep head-bopper that will blow you away when the bass drops.

Next up we have an experimental bass-heavy atmospheric track by Russian duo Marso & Gala, featuring deep spacy vocals that blend in perfectly with the smooth atmospheric pads and riffs. A track that will pull you in and make you dream away into distant worlds.

Tracks 9, 10 and 11 are all by the same producer called "Eissi". We know very little about this mysterious producer, but we do know that his tracks are amazing and he definitely has his own unique sound. This is definitely one of the biggest talents out there at the moment to watch out for! We are proud to present his 3 debut tracks "Timesymbol", "Fallingrain" and "Hiddenwave" on Scientific.

Last track on the album is a true masterpiece by Madrid-based producer kRoNe. Just as you think you are listening to a mixture of classical music and electronic bliss, a beat unexpectedly drops in and takes the tune into a whole new direction. This track changes from the first until the last second and is guaranteed to make you relax.

All in all the Chilling on the Couch .02 LP is an extremely chilled out piece of art that is literally best enjoyed when you are 'chilling on the couch'. We hope you'll like album as much as we do!