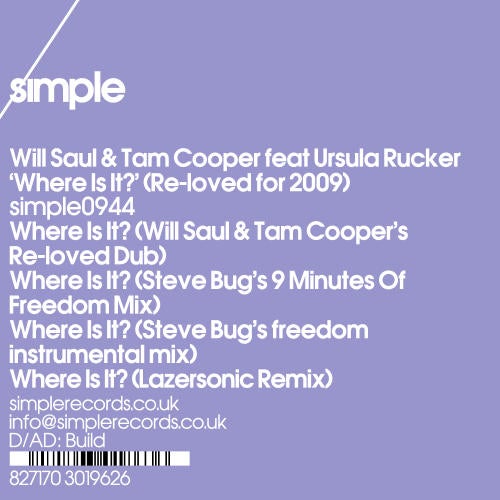 Will Saul and his production partner Tam Cooper are back for the 3rd time this year on Simple with 'Where is it?' featuring esteemed Philly vocalist Ursula Rucker (The Roots).

Steve Bug prompted Will to re-visit the track, that featured on his debut album Space Between in 2005, when he contacted Will earlier this year and asked if he could rework 'Where is it?". Thrilled to get Steve on board, Will decided his original version needed to be re-loved for 2009.

Will & Tam aim to maintain the same sweet sense of suspense and emotion present in the original whilst increasing the sense of urgency and intensity with the introduction of a big, reverb drenched 101 bass line. Damian Lazarus asked to sign this to Crosstown Rebels when Will sent him an early version - a good sign we feel! Steves remix is vintage Bug. A killer house groove beautifully produced and striped back to just the essential elements. A rendition which is true to Ursulas heartfelt original song yet with Steve Bug unmistakably at the controls.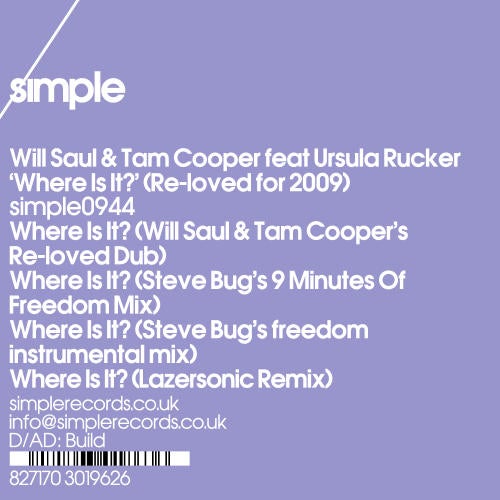 Release
Where Is It? Re-loved For 09'