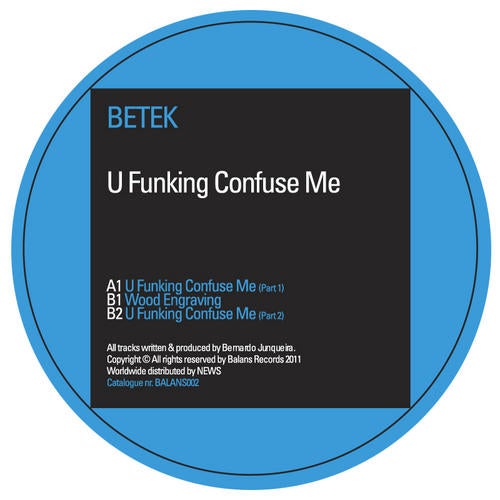 Up next on Balans is a Brazilian old school house & techno talent extraordinaire. He operates under the monniker Betek and has only one release on Black Stripe under his belt so far. This is about to change, because he will be a regular on the imprint from now on.

Hailing from beautiful Rio De Janeiro, you might not expect an artist who is dedicated to old school Roland drumcomputers and bassline machines. Betek clearly has a big love for the the EDM past, but takes it well into the new millennium with a fresh angle. Using the best of both worlds he delivers three original acid cuts. Both versions of U Funking Confuse Me are firmly settled in the Chicago acid house tradition we all have come to love. Bouncing multiple 303 basslines and 707 and 808 drummachines are draped in strings and pads with beautiful melodies and textures. Wood Engraving is a fierce techno stomper, sweeping everything in its way with brutal acid patterns and fierce drums.You can expect more of Betek this year!

Layo 87!!!!! Great old school feel!! Wood Engraving my fav.

Luciano Old school sounds .. like it! Feels like playing in the earlybird moments!

Magda Thank you. Ill try Wood EngravingReboot Nice! 808 and 909 sounding great!!

Laurent Garnier Aciiiiiiiiiid!!! Part 1 for me. 4/5

Italoboyz Very old flavour... nice! Loving Part 1.

Danny Howells Old school gems!! Me Love!!

Samuel L Session Som nice acid house here! Part 2 possibly the standout.

Varoslav Part 2 is a great track! Dirty acid vibes!

Dosem Techno!!! U Funking Confuse me will get plays from me

Luca Bacchetti U Funking Confuse Me (part 2) is a great track!!! Thanks!!!

James Lavelle Really liking these. Part 1 will get played.

Okain This is cool stuff! Part 2 is definitely my favourite here.

John Selway Wood Engraving is stomping!! Part 2 of Confuse Me is really nice..

Little Mike (Beatport) I never get sick of this sound.... prefer the subtle arrangement of Part 2.

Diversions (CHRY Toronto) Nicely executed acid!

Ceoltronic Radio (RTE Pulse Dublin) Yeah sounds great. Really like it. Straight on to Ceoltronic Radio tonight. Thanks.

De:Bug Magazine Germany Considering for review.

Angel (DJ Magazine Spain) Amazing. This is sick music. Authentic old school!

Clubbingspain.com Great release!! Soon in Clubbingspain.com.

Orde Meikle - (Slam) - "Nice acidic grooves. Will play it!"

Franck Roger - "Wood Engraving is gonna be the one for me."

Brothers' Vibe - "Wood Engraving...nice one!!"

Rainer Trueby - "Good beats and nice harmonies on Part 2. Will support."

Alex Neri - "Acid rocks!!!!! Full support on all the tracks!"

M A N I K - "Part 2 is def my flavour- good release for sure!"

Dave Seaman - "Very authentic vibes. Im liking this!"

Osunlade - "Diggin the old skool! Wood Engraving for me."

Jody Wisternoff Love this ! About time I had some new acid tracks to drop, good shit!!

Club Madnezz Radio Holland - "Prog acid."

Jose Maria Ramon - (Ibiza Global Radio) - "Part 2 is lovely support from Ibiza Global Radio."

Kiko Martínez - (DocePulgadas RadioShow) - "Superb rhyhms."

Roual Galloway - (Faith Fanzine/Radio) - "Aceeedd!! Part 2 is classy."

Scan Mode - (DJ Magazine Spain) - "Wow! Nice release!"

Raphael - (Partysan / Stuttgart) - "ACIIIIED!!!"

Victor - (DJ Magazine Spain) - "Aciieeeed!! Love it, superb release!!"

Russ - (iDJ Magazine) - "Quality deep acid grooves, can see this working for house and techno floors alike."

Ben - (DJ Magazine) - "Yep, reviewing in the next issue. Love part 2."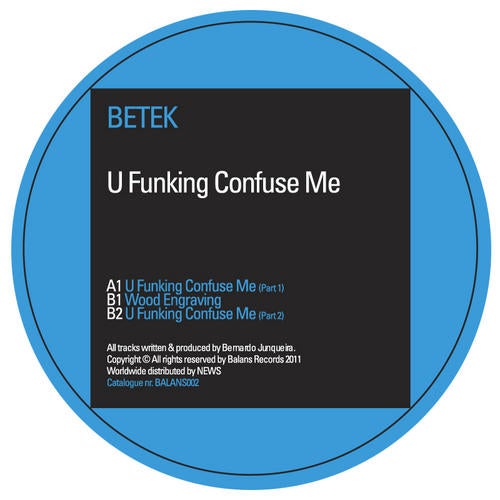 Release
U Funking Confuse Me