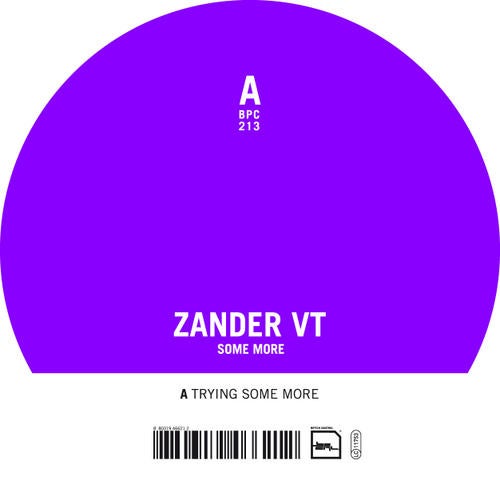 Release Date

2010-05-10

Label

Bpitch

Catalog

BPC213
Who said the wait wouldn't be worth it? The brothers in house Fritz Zander and Sven von Thülen have made themselves somewhat scarce over the past year. After having impressed in 2008 with their
EP "Get Up", remixes for artists including Ratman, Elphine and Oorsprong, and tracks on the Watergate
02 compilation, their audible activities the following year remained confined to Fritz Zander's superb 12" "Connection" and successful compilation appearances on "Ten Years Cocoon Ibiza" and "Time Warp".
Now there's finally something new, and the current Zander VT release certainly lives up to the promise
of its title: "Some More" picks up where "Get Up" left off. Its four no-frills house pearls prove
resoundingly that continuity doesn't have to entail standing still.
A1) As you might expect, the title track gets bodies moving with a pumping, yet cushioned 4/4 beat,
unpretentiously programmed off-beat hi-hats and chords. "Trying Some More" opts for tried and
tested ingredients, blending them into a tasty and stimulating dancefloor cocktail that can be enjoyed
any time of day or night.
B1) In the second round, "Changes" takes a considerably tighter approach. The sound remains in
the classic minimal mould, but noticeably harder and more direct, whilst the tempo is pushed up a
fair old notch. In the second half of the track a brilliant house chord chimes in to add an extra
atmospheric layer and instil the track with a great hypnotic power. "Changes" works as an out-andout floor-filler and is surely the high-point of the EP.
B2) "Holding On" puts on the brakes a little and introduces itself, at least to begin with, as a
considerably more laid back offering than its predecessor. But "Holding On" quickly finds and sustains
its rhythm and, with the increasingly funky tones of its house piano, explores another side of Zander
VT's own sonic universe.
X) The digital track was born out of a collaboration between Zander VT and the Berlin artist Chopstick.
A man of many instruments, this genius with Vietnamese roots is known as a producer thanks to his
regular releases on Kanzleramt and his own label Suol. His remix credits are breathtaking: he has
worked in a huge range of genres with artists including Soffy O, Xzibit, Arrested Development and
LL Cool J, but also Dune and the minimal house duo Monoroom.
He and Zander VT have produced a little masterpiece which, with its subtle beat, happy-go-lucky
melodic loops and wonderfully clear atmospheric elements, brings entirely new qualities to the term "easy listening". "Peace Of Mind" is the name of the game here – a first-rate relaxation aid for postafter-
hour listening.