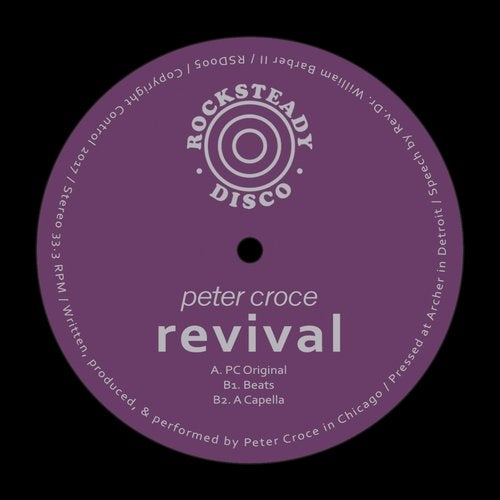 After two years as Rocksteady Disco head honcho, Peter Croce makes his 12" debut with Revival. This EP hinges around a speech by Reverend William Barber II calling for us "to be the moral defibrillators of our time" and demanding that we "stand up, revive us again, fill each heart with thy love, may each soul be rekindled like fire from above."

Musically, Peter's Detroit upbringing shines through on Revival. Tight too-techno-for-house and too-house-for-techno multi-layered drum programming is coupled with driving and minimal M1 organ programming, completed by his own electric bass performance. With inspiration from Floorplan, Joe Claussell, Cajmere, and many more, Peter makes a musical statement drawn America's greatest electronic music hubs.

"We must shock this nation with the power of love. We must shock this nation with the power of mercy. We must shock this nation and fight for justice for all."

Revival, quite appropriately, gets a release on 1/20/17 (Inauguration Day).

Early support from Ben Westbeech (London), Chuck Daniels (Detroit), Ladymonix (LA / Detroit), Stacey "Hotwaxx" Hale (Detroit), and Pontchartrain (Detroit).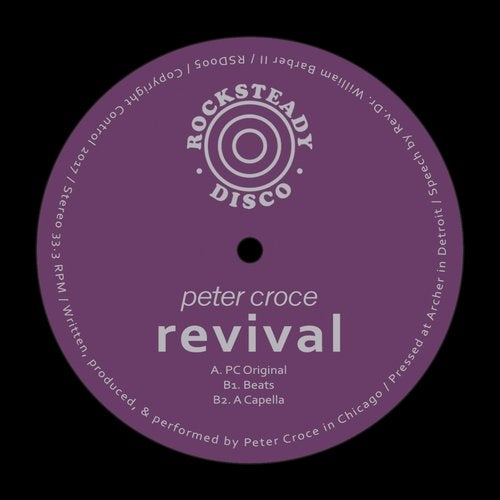 Release
Revival