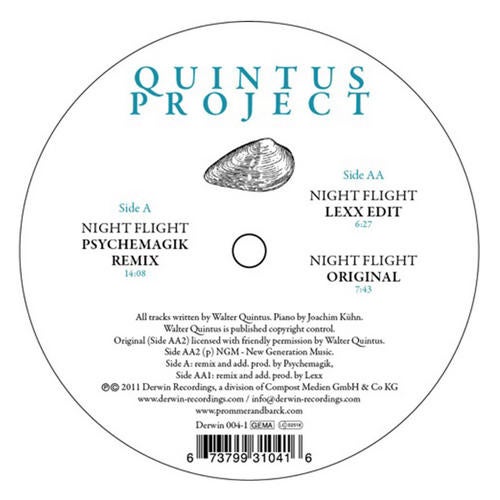 The original Night Flight is one of Alex Barcks (Jazzanova / A&R @ Derwin Rec.) latest discoveries. Alex found this little masterpiece by Quintus Project in a second hand shop and we simply had to re-release this beautiful shimmering piece of balearic soft-tune. The original Night Flight was released in 1987 on the Quintus Project album Moments (limited to 300 album copies!). Mastermind of the project was the German musician, composer, producer, arranger, engineer Walter Quintus, a musical multi-talent. Born in 1949, he collaborated until now with a diverse assortment of great musicans from around the world like Richie Beirach, John Bergamo, Phil Brown, Eric Clapton, Michel Godard, Gary Moore, trumpet player Markus Stockhausen (son of Karlheinz Stockhausen) and many others....
After studying violine from 1955 - 1969 he co-founded in 1968 the psych-kraut rock band Parzival. After two LPs and a single on Teldec, Walter Quintus focused more on producing and sound engineering.
During the Seventies, he produced and recorded for German artists like Kraan, Grobschnitt, Kraftwerk and Udo Lindenberg. Together with the jazz pianist Joachim Kühn, who is playing the piano on Night Flight, in 1984 Walter Quintus invented the legendary Digital Soundboard, an analogue mixer equipped with many electronic digital effects, which enables to transform and to anhence played music direkt and in time.

The first remix delivers the UK based duo Psychemagik. They put their longtime experience of disco editing in this special remix, and delivered a superb cosmic journey. The acclaimed releases last year for Nathan Gregory Wilkins The History Clock label and their legendary Fleetwood Mac Everywhere Summer Of Love Remix, attracted much much attention to the psychemagik duo. Their forthcoming album on Ambassadors Reception Records will be available in late summer 2011.

The second remix comes right from the well-known Swiss DJ and producer Lexx. Lexx is a major force in Zurichs nightlife and enjoys a great reputation for his outstanding DJ-sets in clubs like Zukunft. As a producer, he released various music like his early days stuff as one of the most ground-breaking Swiss Hip Hop acts, to the presence with his more cosmic music on Bear Funk, and the more techy orientated stuff under the moniker Kawabata on Drumpoet Community.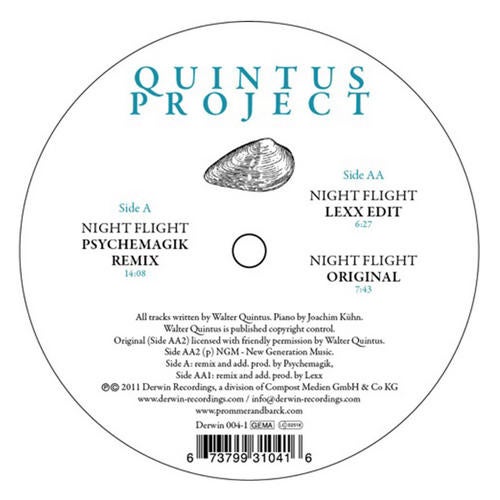 Release
Night Flight (Lexx Remix, Psychemagik Remix)