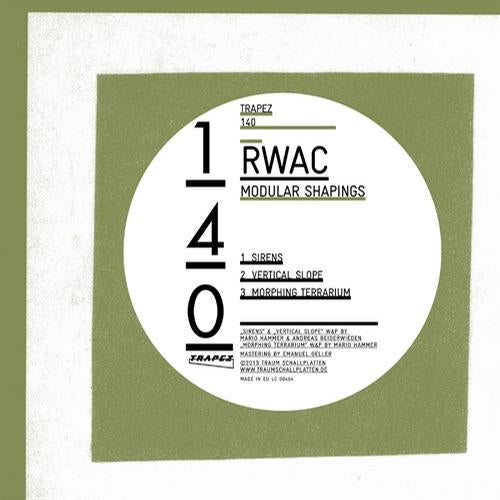 Release Date

2013-03-11

Label

Trapez

Catalog

TRAPEZ140
RWAC is project based on a selection of old analogue modular technology.The sound itself very much results from the selective mind of RWAC, who have transferred the mightiness of the sound into a true gatecrasher.

The release opens up with "Sirens", a track that reaches out with striking sequential sounds from the very beginning, signalizing that this project is not only for lovers of analogue music but for DJs who search for innovation sound shaping that is 100%% for the clubs.
Modulating its core sounds by keeping up a hi-energy level of true and raw dynamic combining it with an attractive modern groove, RWAC show that an analogue track can also mean writing a strong composition for DJs.

"Vertical Slope" kicks off with droning sounds splitting up sounds in diverse layers, creating a broadness and mightiness in shape of a "fan shaped" laser beam before is breaks down into a shuffle beat and noise galore that rips the tracking in two pieces and gives it all the energy the restart its sequential madness.

"Morphing Terrarium" is a heavy analogue sequence without beats or percussion, just the raw sound by itself perfect for DJs who are looking for sounds to work into their sets as transitions.