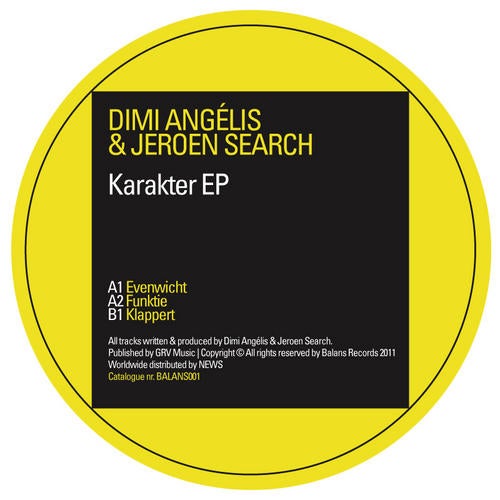 A new year, a new label: Balans Records is the latest addition in the Wolfskuil labelroster. Devoted to pure and honost house, techno, acid and electro music with a distinct old school flavour, but also strongly settled in the here and now.

The first release is always an important one. Hollands finest duo in the true and honost techno department, Dimi Angèlis & Jeroen Search, embody the philosophy of Balans in more then one way. They always took a stand for what they believe in, regardless of any trends or hypes that occurred around them. They got rewarded for that with a solid reputation as outstanding techno producers, and released ear catching music on prolific labels such as Figure, Smallville and Jeff Millss ofshoot 6277.

Their Karakter EP on Balans is simpy a no-nonsense techno record. Stripped down to its bare essentials. Every kick, hat and sound is where its supposed to be: effective, to the point and aimed for maximum damage on the dancefloor. Just listening to the monstertune that is Klappert triggers the imiganition of an exploding Berghain. And with Evenwicht and Funktie they take us deeper into the night/morning with estranging and clashing sounds and atmospheres. A refreshing honost record by two rocksolid musicians.

Sasha Klappert, Full on aural assault, wicked peak time action!!

Stacey Pullen Yeah, nice solid release here.

Matt Walsh (Turbo Recordings) - Really nice ep, interesting techno, 1 and 3 are my favourites.

Dave Clarke - "Great ep! Fav is Evenwicht!!"

Secret Cinema - "Klappert is my fav here, support!!"

Paul Woolford - "Funktie is right up my street, great work as I expected."

Arnaud Rebotini - "Exellent 12"!"

Rolando - "Klappert for me... will play it!"

Pablo D - (Klubbers.com) - "Nice work. Like darkness sounds fo Everiwicht track."

Diversions - (CHRY 105.5FM Toronto, Canada) - "A very good start for this label - all 3 cuts are very good!"

Victor - (DJ Magazine Spain) - "Nice broody techno, touching different faces of the style. Great old skool industrial feel. Thanks and good luck with the label!"

DJ Mag Italia Considering for review."

Mihalis Safras - "Old skool tunes here! Love Evenwicht!"

Norman Nodge - "Proper techno, pure quality. For me its especially Klappert."

Joel Mull - "YES Klappert!! This will keep the party going. Full support."

Alan Fitzpatrick - "I like Funktie. Support!"

Samuel L Session - "Evenwicht is nice! Will play it."

Orde Meikle - (Slam) - "Strong tracks -electronic funk - playing Funktie."

John Selway - "Funktie might work out for me, will give it a shot."

Felix - (Hot Chip) - "Love the crazy synth pulses in Klappert and the overall gritty feel to it."

Len Faki - "Great release from Dimi and Jeroen, Evenwicht is my fave here. On board!"

Okain - "Mental stuff that will rock the floor. Funktie is my pick."

Joseph Capriati - "Nice ep, will try Klappert for sure."

Sian - "Loving Evenwicht.. solid ep!"

Laurent Garnier - "Intergalactic dark funk ...... looove Evenwicht."

Ceoltronic Radio - (RTE Pulse, Dublin) - "Great work guys. Love your work. Sounds great. Ballsy stuff. Will feature the EP in full tonight on Ceoltronic Radio."

Philip Sherburne - (Beatportal/RA/The Wire) - "Everwicht is right up my (dark) alley... Digging the old-school bleep feel of Funktie too."

Scan Mode - (ClubbingSpain/DJMag Spain) - "Ultra Phat beats here! Lovin' this analog productions,big tracks,full support!"

Raveline Magazine Germany - "Hard stompin...dark groovin...not sure about a review yet...will take a second listen."

Tsugi Magazine France - "Nice EP!"Marco R (DJ Italia / Soundwall.it) - "Good ep in this new label!"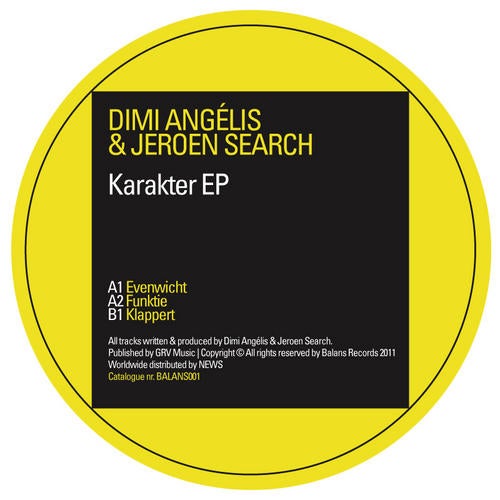 Release
Karakter EP