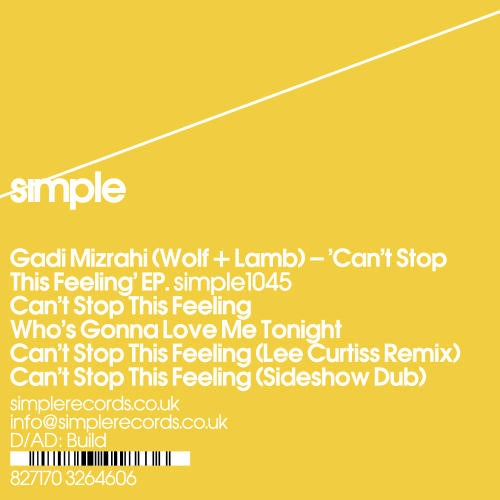 Gadi Mizrahi paints splashes of bold colour through Cant Stop This Feeling and Whos Gonna Love Me Tonight. Tinged with sparks of the oncoming summer months and vocals that hark back to the early days of house music, these two stunning cuts lay down his emotive side. Can't Stop This Feeling was written during a pretty emotional time last summer. It's very dear to me, it kind of represents the ups and downs of falling in love, says Gadi. A deeply sensual record that continues to evolve from its early trippy and pulsating sounds to a radiant finish, Cant Stop This Feeling beholds a unique beauty that will last the test of time.

Lee Curtiss, part of Detroits new generation and true raw talent, takes on the first remix, stripping the track back and letting the beats lead the way. Curtiss is part of the Wolf + Lamb family that Gadi created alongside his partner Zev. I was thrilled to have Lee do a remix since Lee's been one of my closest friends for the last few years, says Gadi He did a great job turning a pretty deep and weird track into a classic house bomb.

The second remix comes courtesy of Sideshow, accentuating the quirkiness of the original into a masterful dubby, dark and wonderful creation. Sideshow has unleashed a string of highly original releases on Simples sister imprint Aus Music and critically acclaimed albums on Ninja Tune under his alias Fink.

Led by a strong female vocal, trembling percussion and infectious bass, the B-side is equally as original as the flip. Who's Gonna Love Me Tonight was my attempt at a more old school dirty style of detroit house. The result is four tracks inspired by the sounds of the past, bringing them into the future with added soul and energy.

House music found a new peer in 2009, as the Wolf + Lamb label and production duo, Gadi and Zev, took a fresh view of the music they loved and developed something unique. From their NYC base they gathered a close family and constructed a vision that became a staple for a fresh community of listeners through the world. A musical match for the Simple vision, Will Saul and Gadi began to share ideas, leading to this new partnership.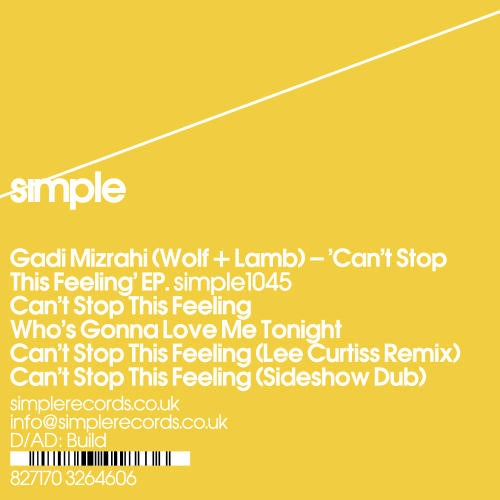 Release
Can't Stop This Feeling EP