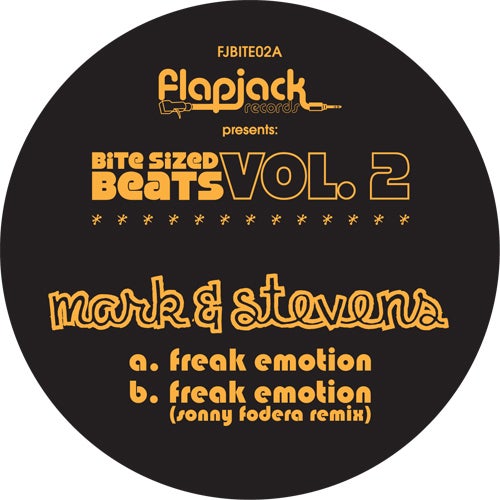 Release Date

2011-01-04

Label

Flapjack

Catalog

FJBITE02
Flapjack Records is proud to present the 2nd release in a new off shoot collection of 7 single vinyl pressings entitled Bite Sized Beats..yep thats right, the tiny little records that used to have big holes in the middle and played at 45 rpm, thats what these releases will be pressed on. Only these records will have the standard sized pin hole and have a full 6 to 7 minute house track on each side that plays at 33 rpm. But arent 7 records low in volume you may ask? Truthfully they are lower in volume than 12 pressings, but ironically are mastered at a higher volume than digital releases and sound super warm and great! Its a big sound on a smaller format which is why the name Bite Sized Beats suits it well.

Bite Sized Beats Vol. 2 has two smoking cuts from Flapjack veterans Mark & Stevens. The A side rocks their original single Freak Emotion to no end. Ive got a freak emotion myself, and its all wrapped around food and house music. There is something about that combination that winds me up and shoots me into space. Anyway, this track fits perfectly into that molded out spot on your plate, kinda like a steaming pile of mashed potatoes topped with luscious gravy. Savory and delicious beats just slathered all over the dance floor. Making me drool all over this write-up.

On the flip side, we have a the Freak Emotion (Sonny Fodera Remix) in our good mate from Australia churns out a buttery delicious remix a la Sonnys signature style. Rocking with solid Sonny beats, a walk down bass line, and hot silky vocal stabs, this remix rocks the spot like a cradle with a jet engine. This is the kind of remix that you just want to rub all over your mix and then let it marinate for a good long while.

So if you are looking for something that is bite sized, but with huge flavor, then you best try out our Bite Sized Beats Vol. 2. Im sure you will find that it is extremely satisfying and many levels. There are many more of this series to come, so keep some room in the fridge for some of this future fried funk.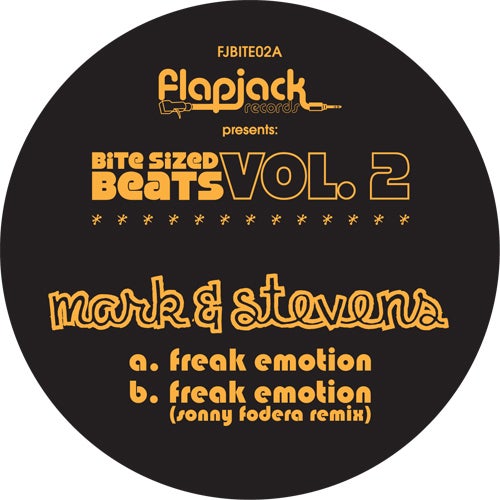 Release
Bite Sized Beats Volume 2
Release Date

2011-01-04

Label

Flapjack

Catalog

FJBITE02