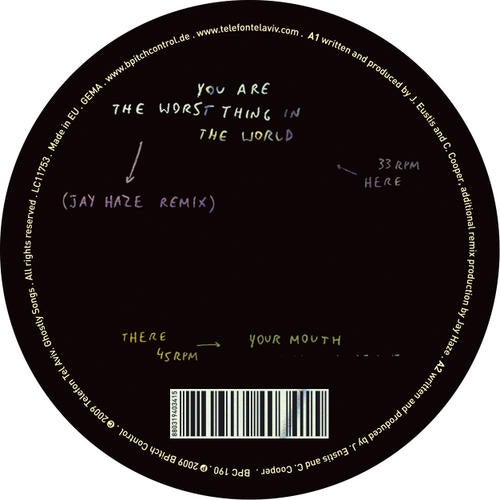 Release Date

2009-02-06

Label

Bpitch

Catalog

BPC190
Telefon Tel Aviv have recently celebreated an amazing debut on BPitch Control. With their album "Immolate Yourself" (BPC188), Joshua Eustis and Charles Cooper underline their aim to combine individual sound aesthetics with pop influences, conveying the listener the secure feeling of a deep consent.
This demand was also essential for the selection of remixers to choose for the first single "You Are The Worst Thing In The World" (BPC190):
The first one onboard is Jay Haze, who released his great "Shocked" 12" (BPC182) on BPitch Control last year and delivers his interpretation of this track first on A1. He forms it into an uncomprimising peak time monster that only reminds of the original by using a few very well chosen quotes.
Flip over to the second remixer, Minus based Gaiser. His successful album in the back, he now gives us his vision of "You Are The Worst Thing In The World": In contrast to Jay Haze, he is more gearing to the original track and turns out very well in adding the Telefon Tel Aviv aesthetic to his so typical sound structures.
Besides the Original, the extra bonus track "Your Mouth" is also included to this release, rounding it off and making this record a clear musical statement.
Watch Out: On each side, the Remixes are cut on 45 and the Originals on 33 -so take care of the correct tempo while playing it out...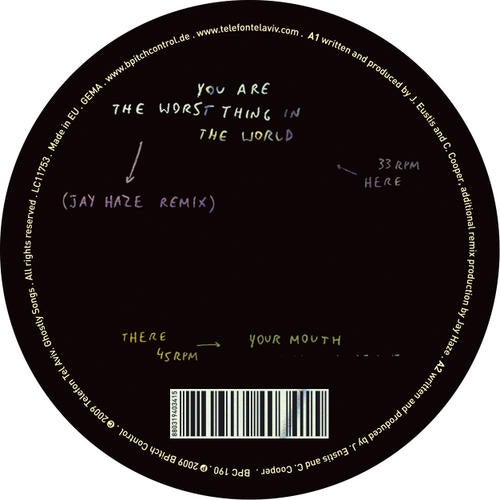 Release
You Are The Worst Thing In The World Remixes
Release Date

2009-02-06

Label

Bpitch

Catalog

BPC190