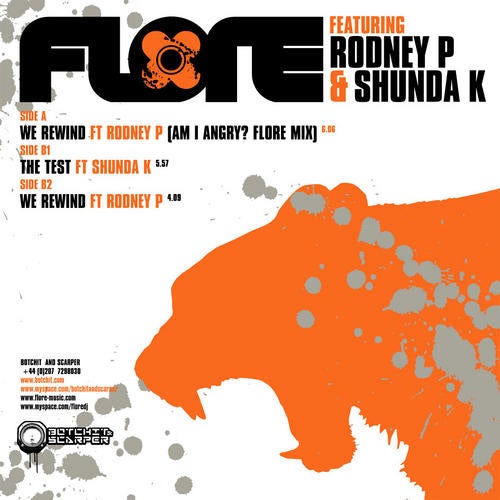 Here at Botchit & Scarper towers we always welcome a producer who pushes the musical boundaries and brings exciting new elements to electronic music, Flore is one of those producers! After crafting herself a healthy niche within French breakbeat circles, (first cutting her teeth on the drum & bass scene), she has, in recent years, seen countless recognition from all the big players thanks to her remixes and solo releases on imprints such as Mofo, Ibreaks and her original home from home Labrok.
In the lead for her album debut 'Raw', set for release in October this year, Flore unleashes a double A side show stopper! Busting through the speakers ten forth 'We Rewind' takes centre stage, featuring the instantly infectious vocal talents of non other than Rodney P the riddim killa, (London Posse, Big Life records, who toured with Big Audio Dynamite). Rodney P is widely regarded as the Godfather of British Hip Hop and is currently working with Dub Pistols on their new LP (Rob Da Bank's Sunday Best label). Rodney P has worked with Roots Manuva, Skinnyman, Black Twang, The Next Man ,Omar, Brand New Heavies ,The Dub Pistols, MJ Cole, Roni Size, The Stanton Warriors, Timo Maas, Bjork and Nitin Sawney and featured on Channel 4's Dub Plate Drama series.
A digital hip hop dub floor shaker, 'We Rewind' is impossible to resist, Flore matches Rodney P's good time vocal flow with woofer wobbling bass and 8bit bleeps. Not forgetting the 4/4 bass line, Baltimore, breakbeat mash up crew (!) Flore throws down a rocking n rolling club mix of 'We Rewind', guaranteed to set any floor alight!

On the flip, Flore lays it down with the Kuduro infected 'The Test', teaming up with Shunda K of silver-tongued hip hop duo Yo! Majesty (Domino Records). Shunda K has worked with Basement Jaxx, Outkast, Deekline, Kotchy and Peaches (XL/Beggar's Banquet) who performs 'Billionaire' live every night on tour with a big-screen projection of Shunda doing her verse! Shunda K's collab with Kotchy spent two months on the CMJ Radio charts in the US, (not bad for a digital only release!)
Shunda K has appeared in the pages of Blender, Remix, Nylon,SPIN, New York Times, NME and number 41 in the NME COOL LIST: 'Shunda K, Yo Majesty -One half of Florida's most potty-mouthed lesbian hip-hop duo, Shunda K is typical of the hard-partying, needle-in-the-red spirit that re-energised hip-hop in 2008'
A unique collaboration Shunda K matches Flore's pounding dancehall beats with ease making for a musical joy ride. When the bass drops on this one you better hope your sitting down! Also included is the instrumental, which takes on a new lease of life! An exciting opener to Flore's 'Raw' LP which will feature more tracks with Shunda K. Next single will get the remix treament from Peo De Pitte !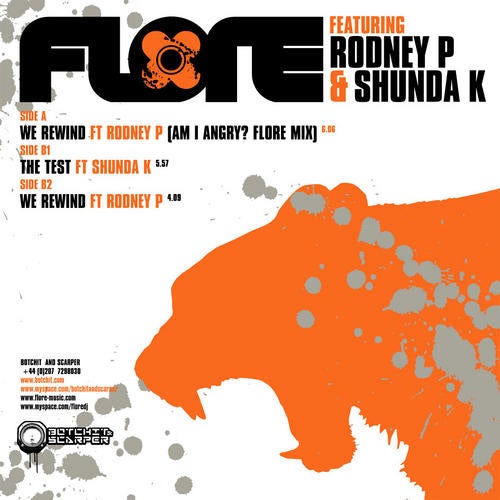 Release
We Rewind / The Test