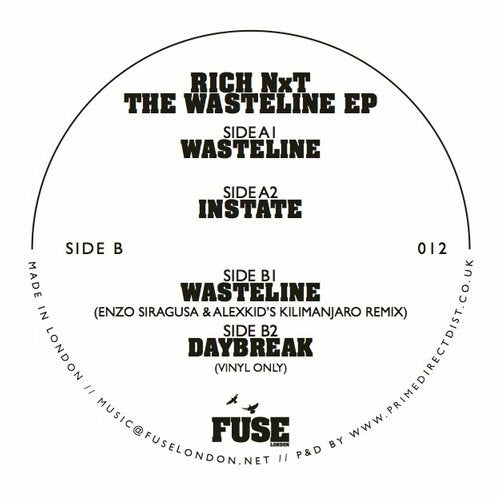 Release Date

2014-05-20

Label

Fuse London

Catalog

FUSE012
Title track 'Waistline' is an impressive opener, which stretches over seven glorious dubbed out minutes. The track is characterized by its infectious groove, which rolls along at a steady pace and is complemented by expertly placed distorted sounds and vocal snippets. 'Instate' continues in a similar vein, but this time warm reverb pads shine through darkness of the crisp percussion. With distorted vocal fragments and echoing cowbells added to the equation at just the right moments, the clever arrangement results in a totally engrossing and hypnotic track. 'Daybreak' - is another functional dance-floor weapon, with heavy bass, sharp drums and echoes ringing throughout, these sounds all combine to create a deeper-than-deep eyes closed heads down vibe that is a perfect fit for the FUSE dancefloor.
Rounding off the EP is remix of 'Waistline' under their acclaimed Kilimanjaro project. While the dubby essence of the original remains, the duo instantly stamp their mark on the record through raising the BPM with razor sharp percussion and adding sublime deep bass and warm soaring synths which wash over the punchy beat.

On the 'Waistline EP' Rich demonstrates his considerable production prowess and as expected from one of FUSE's most trusted residents it contains all the elements that one would associate with the much-loved FUSE sound: deep dubby house and techno of the highest order, rich in details and sound. The 'Waistline EP' leaves listeners eagerly anticipating Rich's next output and hearing the release on the dancefloor.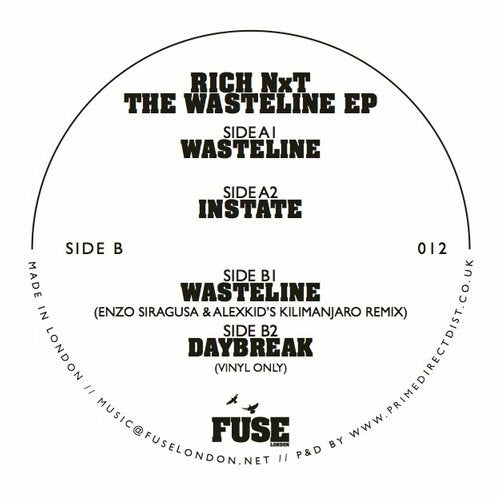 Release
The Wasteline EP
Release Date

2014-05-20

Label

Fuse London

Catalog

FUSE012